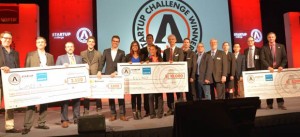 The SPIE Startup Challenge, held each year at Photonics West, is a high-stakes, global competition where entrepreneurs have 5 minutes each to pitch their businesses to a team of expert judges, and the chance to win more than $85,000 in cash, prizes and promotion. 24 semifinalists have been chosen to advance to the semifinals:
TRACK 1: BIOPHOTONICS, POINT OF CARE TECHNOLOGIES
C. Light Technologies, Inc.
The Neuro-Deficit Screening and Therapy Guidance Tool
The fast, objective, and most accurate retinal eye-tracking tool made to help doctors detect the mildest of neuro-deficits, allowing their patients to do what they love safely and for as long as possible.
Christy Sheehy, C. Light Technologies, Inc.
CareWear Firefly - Wearable Therapeutic Light
A wearable therapeutic light patch using printed LEDs and CFQD film to treat pain and accelerate recovery from soft tissue injury.
Chris Castel, CareWear Corp.
Clearview-App
Reagent-free complete blood count in microliter samples
Clearview plans to further develop technology to enable quantitative hematology laboratory testing at the point of patient without reagents using only a finger prick of blood..
Andres Zuluaga, Clearview-App, Inc.
Harmonigenic Corporation
Optical Prediction of Time Interval to Metastasis (OPTIM)
Harmonigenic, life orchestrated. Revealing what people want to know to improve cancer treatment decisions.
Robert Hill, Harmonigenic Corporation
Structured Illumination Microscopy for Rapid On-Site Evaluation of Fresh Biopsies
Instapath has developed a microscopy system that provides an exact picture of cancer biopsies within seconds, providing essential biopsy quality evaluation to ensure an accurate final diagnosis.
Mei Wang, Tulane University of Louisiana
LChip
Veterinary lab-on-a-chip device for rapid diagnostic of animal diseases
LChip is an electronic platform/reader with disposable test chips that with specific embedded biochemistry will target and diagnose different pet diseases. Easy to use and accurate, 1 single drop of blood provides quantitatives results in less than 10min.
Andre Guedes, LChip
Lightrino
Ocular surface assessment device
Lightrino is aiming to improve the current treatment of dry eye syndrome by distinguishing subgroups of dry eye, so that patients can be treated with appropriate eye drops, or targeted surgeries.
Aizhong Zhang, Lightrino
Nanotools Bioscience
Graphene-based optoelectronic microplates for optical stimulation of cells for drug screening assays
We aim to revolutionize the drug discovery process by providing affordable high-quality screening tools that reduce drug development times and improve screening accuracy.
Elena Molokanova, Nanotools Bioscience
P+ Diagnostics
Clogging of your bloodstream at your heart or brain stops your healthy life immediately. Our technology will be able to detect the risk at an early stage with a simple blood test.
Nao Nitta, Japan Science and Technology Agency
PhotoniCare
ClearView Imaging Platform
The PhotoniCare ClearView is a simple, low-cost imaging platform that enables users to see through tissue. Visualize the middle ear without cutting the eardrum open.
Ryan Shelton, PhotoniCare
TRACK 2: IMAGING, DISPLAY, LASERS, SEMICONDUCTORS
Bluefield
COOL - CH4 Observation Of Lower-troposphere
Bluefield will keep the earth cool with microsatellite-mounted sensors tracking methane, the most dangerous - and valuable - greenhouse gas.
John Atkinson, Bluefield
MagAssemble
Custom Patterned Diffractive Optical Elements
Patterning the future.
Mas Crawford, MagAssemble
RCS Photonics
Mid-Infrared Semiconductor Lasers to Boost Sensing and Communication
Developing revolutionary laser diode technology that is tunable, compact, efficient and integrable: pushing the mid-infrared for various applications ranging across the defense, industrial, research, communication and medical sectors.
Shamsul Arafin, RCS Photonics
ultralumina
Extremely bright Deep UV supercontinuum source
Our light source provides the customer a brightness that is five orders of magnitudes larger than alternative technologies in the deep ultraviolet.
Sofia Trapper, ultralumina GmbH
Semiautomatic Semiotics
Theater Style VR for Brands
Our venture plans to create headset free VR to transport an individual at will through beautiful landscapes, imaginary settings & famous trails.
Zenah Khawaja, Semiautomatic Semiotics
e-skin Displays, Inc.
The world's first full-color reflective display based on plasmonic structural color
Imagine being able to change the look and feel of any surface you interact with in your everyday life - from your electronics to your clothing, to your home walls and furniture.
Nagendra Nagarajayya, e-skin Displays, Inc.
Vitrum3D
Specialty resins for 3D printing of transparent fused silica glass.
Dorothea Helmer, Vitrum3D
TRACK 3: SENSORS, WEARABLES, INTERNET OF THINGS
SafetySpect, Inc.
Food Safety and Food Defense Sector / Food Testing and Scanning Devices
SafetySpect scanning technologies allow cost-effective real-time scanning and detection of food contaminants and quality grading (processing time in seconds).
Kenneth Barton, SafetySpect, Inc.
Labby
Labby converts your smartphone into a high-tech food/beverage testing and analytics lab
We are converting the ubiquitous smartphone into a high-tech food/beverage analytics lab. Our mission is to create a 'billion labs' all around the world. With everyone carrying their labs in their pockets, the possibilities are endless!
Anshuman Das, Massachusetts Institute of Technology
NIREOS
Changing the way we measure light
An innovative technology to characterize samples (food, water, drugs, ...) in a remote and non-destructive way through their interaction with light.
Fabrizio Preda, NIREOS
E.O.I Technologies Inc.
A non-Interferometric noncontact laser vibrometer for industrial applications
We have developed a first of its kind non-interferometric laser vibrometer. It is ideally suited as a cost-effective alternative for an LDV.
Alex Sulkin, E.O.I Technologies Inc.
Orbis Diagnostics
Point of Cow Diagnostics
Orbis will allow smart dairy farmers to innovate by providing key data about core business - producing excellent milk from the healthiest animals in the most sustainable way.
Cather Simpson, Orbis Diagnostics
Senorics
The food analysis lab for your pocket
Senorics' NIR sensor technology would have saved Snow White from eating that apple. One quick scan reveals hazards AND the full nutritional breakdown.
Ronny Timmreck, Senorics
CarNanny
Smart Baby Car Seat
The smart baby car seat (CarNanny) is a seat incorporated with optic sensors that serves as an internet of baby things about the well-being of a baby. Imagine Amazon Echo in a baby car seat with optic sensors
Chukwunonso Arinze, CarNanny
The final challenge
Finalists will be selected on January 30 from 2 to 4 p.m.at the Park Central Hotel. The final competition will take place on Wednesday January 31 in Room 21 of the Moscone Center North. The judges will choose the top three pitches and announce the winners at the end of the presentations.