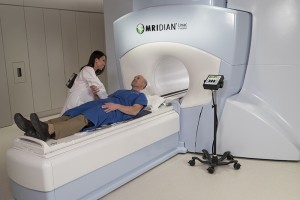 ViewRay, Inc. announced today that Ludwig-Maximilians-University Hospital in Munich has begun patient treatments with MRIdian Linac, a cutting-edge radiation therapy system that combines the latest innovations in precision radiation delivery and ground-breaking MRI-guidance.
The first patient treated at Ludwig-Maximilians-University Hospital was treated for an ultra-central lung lesion using stereotactic body radiation therapy (SBRT), which delivers high doses of radiation to targeted areas in fewer treatment sessions than conventional radiation therapy. The goal of SBRT is to irradiate the tumor, mitigate side effects and impact to healthy surrounding tissue, and provide greater convenience to patients. Because of MRIdian's continual MRI-guided adaptive capabilities and automatic beam gating, it is well-suited to deliver SBRT treatments.
In the first six weeks of MRIdian patient treatments at Ludwig-Maximilians-University Hospital, other indications treated with MRIdian included prostate, pancreas, spine and abdominal lesions. More than 70 percent of the 110 delivered fractions were delivered using MRIdian's full-online adaptive capabilities, which enable clinicians to make treatment plan modifications, both during treatment delivery and throughout the course of treatment.
Currently 34 MRIdian systems are installed at hospitals around the world, where they are being used to treat a wide variety of solid tumors and are the focus of numerous ongoing research efforts. MRIdian has been the subject of hundreds of peer-reviewed publications, scientific meeting abstracts and presentations. More than 8,000 patients have been treated with MRIdian.