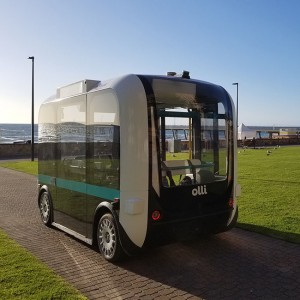 Robotic Research LLC, a provider of autonomy software and robotic technology and solutions to federal and commercial customers, announced today it has received a 2020 Cogswell Outstanding Industrial Security Achievement Award. This is an award presented by the Defense Counterintelligence and Security Agency for a company's excellence in industrial security and defense. This is a prestigious honor bestowed on Department of Defense contractors, with only 61 of over 12,500 facilities receiving the award this year.
Robotic Research provides navigation, autonomy and robotic solutions for various programs and customers across the military, defense and commercial industries. The company provides autonomous capabilities for commercial and military vehicles with its embedded AutoDrive kit, allowing the vehicles to navigate complex pathways without GPS location. Robotic Research also provides warfighter localization sensor units, known as WarLoc, to support forward-deployed U.S. military personnel in GPS-denied environments. Recently, the company unveiled Pegasus, the first-of-its-kind family of transformable unmanned autonomous vehicles for branches of the Department of Defense and commercial arenas.
The Cogswell Award was established in 1966 and focuses on principles of industrial security excellence. Factors include establishing and maintaining a security program that far exceeds the basic National Industrial Security Program requirements and providing leadership to cleared facilities in establishing best practices while maintaining the highest standards for security.
In the past, the awards have been presented at the annual Society of Industrial Security Professionals training seminar. However, due to the COVID-19 pandemic, the award winners will be recognized in a virtual ceremony at a later date.