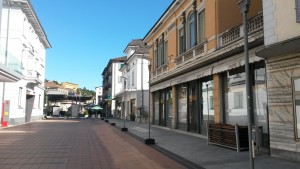 The Swiss city of Chiasso recently implemented a system for the management and control of the public lighting that also hosts public WiFi infrastructures. This futuristic undertaking began in 2013 when the city worked with the public utility in focusing on the management and control of a portion of street lighting. They went a step further and installed IP cameras for video surveillance of traffic. And the latest investment was made in the summer of 2015 when mercury-vapour lamps on the most prominent arterial road in the city center were replaced with 50 Mini Stelvio LED lamps by Disano Illuminazione.
Earned title of Energy City
Chiasso a municipality with about 8500 inhabitants, is strongly committed to sustainability and innovation. In 2008 the city earned the title of "Energy City" for its forward-looking energy efficiency policies. The designation is given by the "Energy City" association and strongly promoted by the national agency Svizzera Energia to award municipalities and communities for their focus on energy efficiency. The City of Chiasso is therefore committed to carry on a number of initiatives to boost energy efficiency in different areas, from urban mobility to building automation, to solid waste management.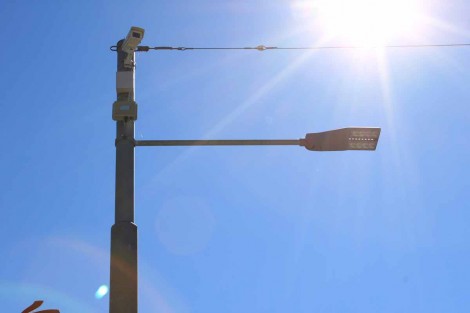 IP cameras are installed on light poles, taking advantage of PE.AMI network infrastructure
Public lighting is one of the services where great savings can be achieved, so the Smart Lighting project is contributing to cut energy consumption through the gradual dismissal of mercury-vapor lamps, the adoption of energy efficient technologies and the development of an advanced system for remote monitoring and control.
Remotely managing smart infrastructure
Together with AGE SA (the local utility that manages water, electricity, and gas distribution), the city started to replace existing lamps with LED devices and implemented the PE.AMI system for remote monitoring and control. The PE.AMI management platform by Paradox Engineering is Internet of Things ready, letting cities dialogue with multiple urban objects in order to manage them within a framework of smart, interconnected services and applications. Everywhere that there is a sensor, information is generated whether it is to control light output, detect the health status of single lamp, power on or off or offer dimming, or even to segment the network into sub-grids as necessary. Interfacing power lines and transferring data over the grid. PE.AMI enables AGE to manage Chiasso's entire smart infrastructure remotely, including WiFi, video surveillance and a pilot smart metering initiative.
Saving energy, cutting costs
Currently the smart lighting infrastructure spans across a portion of the city center including Via Dante Alighieri (the main street in Chiasso), as well as on some sports facilities.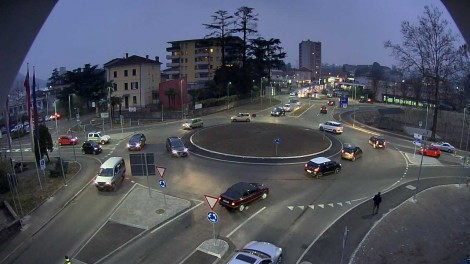 A view of Largo Kennedy (quite congested junction in Chiasso) from the IP camera.
The enhancement to lighting as well as cost savings are evident to residents, city officials and utility administrators. "Investments we are shouldering to improve street lighting are paying relevant benefits back to Chiasso citizens and businesses, as well as to local government and AGE itself", said Corrado Noseda, director at AGE SA. "Thanks to LED transition and the possibility to calibrate each light point from remote, we estimate a 70% cut of daily energy consumption in Via Dante Alighieri. As for service quality, we can ensure every street, crossroad and crossover to be properly lighted, using the light intensity which is indeed needed. Management and maintenance costs have been reduced, too". AGE and the City of Chiasso are now planning to extend PE.AMI network to a smart parking project and test some pioneer drone applications in the same area, thus pushing the idea of Smart City even further.
Written by Anne Fischer, Managing Editor, Novus Light Technologies Today