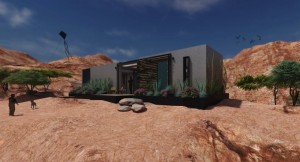 It's the 20th anniversary of the Solar Decathlon, and 133 teams from 107 collegiate institutions are off to the races as competition begins for the U.S. Department of Energy Solar Decathlon 2022 Design Challenge and 2023 Build Challenge teams in 20 countries and 29 U.S. states.
Over its lifetime, the Solar Decathlon has challenged more than 25,000 students to create high-performance, efficient, and affordable buildings powered by renewables while promoting student innovation, STEM education, and workforce development opportunities in the buildings industry. The Design and Build Challenges are composed of 10 contests. The Design Challenge is a one- to two-semester, design-only competition, while the Build Challenge is a multiyear design-build competition.
"Now in its 20th year, the Solar Decathlon continues to be at the forefront of building the next generation of student leaders who can address climate change through the built environment," said Holly Jamesen Carr, Director of Solar Decathlon in the Building Technologies Office. "As these students take on the toughest challenges in the built environment, their bright ideas and creativity will be crucial in the transition to a clean energy economy."
2023 Build Challenge
The number of teams competing in the 2023 Build Challenge has nearly tripled from the 2020 Build Challenge to 32 teams, and 16 of the 37 participating collegiate institutions will send teams to the Solar Decathlon Build Challenge for the first time. Over the next two years, these teams will design and build energy-efficient, fully functional homes in their communities to demonstrate creative solutions for real-world issues in the building industry.
The 37 collegiate institutions participating in the 2023 Build Challenge are:
Abdelmalek Essaâdi University Tétouan, Morocco
Arapahoe Community College, Littleton, Colorado
Ball State University, Muncie, Indiana
Bangkok University, Bangkok, Thailand
Barber-Scotia College, Concord, North Carolina
Brigham Young University, Provo, Utah
Central Washington University, Ellensburg, Washington
Clark Atlanta University, Atlanta, Georgia
Colorado School of Mines, Golden, Colorado
École Nationale Supérieure des Mines de Saint-Étienne, Saint-Étienne, France
Indian Institute of Technology Bombay, Mumbai, India
Kocaeli Üniversitesi, Kocaeli, Turkey
Mimar Sinan Güzel Sanatlar Üniversitesi, Istanbul, Turkey
Mississippi State University, Starkville, Mississippi
Monash University, Melbourne, Australia
Navajo Technical University, Crownpoint, New Mexico
NewSchool of Architecture & Design, San Diego, California
Northeastern University, Boston, Massachusetts
San José State University, San José, California
Savannah College of Art and Design, Savannah, Georgia
Texas A&M University, College Station, Texas
The Pennsylvania State University, Harrisburg, Middletown, Pennsylvania
The University of British Columbia, Vancouver, British Columbia
The University of Kansas, Lawrence, Kansas
Thomas Jefferson University, Philadelphia, Pennsylvania
Université Moulay Ismaïl, Meknès, Morocco
University of California San Diego, La Jolla, California
University of California, Berkeley, Berkeley, California
University of Colorado Boulder, Boulder, Colorado
University of Illinois Urbana-Champaign, Urbana, Illinois
University of Liverpool, Liverpool, United Kingdom
University of San Francisco, San Francisco, California
University of the Witwatersrand, Johannesburg, Johannesburg, South Africa
University of Waterloo, Waterloo, Ontario
University of Wyoming, Laramie, Wyoming
Washington University in St. Louis, St. Louis, Missouri
Woodbury University, Burbank, California
Build Challenge teams will present their designs at the Solar Decathlon Competition Event, April 24–26, 2022, for approval to move forward to the construction phase. Teams will complete construction by early 2023, exhibiting homes locally in their communities, and winning teams will be chosen in April 2023.
2022 Design Challenge
101 teams from 80 collegiate institutions have joined the 2022 Design Challenge. Cross-disciplinary teams will bring their residential or commercial building designs to the Semifinal Competition next February, followed by finalist project presentations at an expert-juried event held April 24–26, 2022.
The 80 collegiate institutions competing in the 2022 Design Challenge are:
Alexandria University, Alexandria, Egypt
Ball State University, Muncie, Indiana
Blackburn College, Carlinville, Illinois
Brigham Young University, Provo, Utah
California Polytechnic State University, San Luis Obispo, California
Carleton University, Ottawa, Ontario
Clark Atlanta University, Atlanta, Georgia
College of the Canyons, Santa Clarita, California
College of the Ozarks, Point Lookout, Missouri
Colorado State University, Fort Collins, Colorado
Escuela Especializada en Ingeniería ITCA-FEPADE, Santa Tecla, El Salvador
Ferris State University, Big Rapids, Michigan
Georgia Institute of Technology, Atlanta, Georgia
Harvard University Graduate School of Design, Cambridge, Massachusetts
Howard University, Washington, D.C.
Illinois Institute of Technology, Chicago, Illinois
Jackson State University , Jackson, Mississippi
Kansas State University, Manhattan, Kansas
Kennesaw State University, Kennesaw, Georgia
Kern Community College District, Bakersfield, California
Michigan State University, East Lansing, Michigan
Missouri University of Science and Technology, Rolla, Missouri
Monash University, Melbourne, Australia
Myongji University, Seoul, South Korea
Navajo Technical University, Crownpoint, New Mexico
New Mexico State University, Las Cruces, New Mexico
New York City College of Technology, Brooklyn, New York
Northwestern University, Evanston, Illinois
Norwich University, Northfield, Vermont
Ohio University, Athens, Ohio
Pennsylvania College of Technology, Williamsport, Pennsylvania
Politecnico di Torino, Turin, Italy
Prairie View A&M University, Prairie View, Texas
Pratt Institute, Brooklyn, New York
Queen's University, Kingston, Ontario
Ryerson University, Toronto, Ontario
Santa Monica College, Santa Monica, California
School of Planning and Architecture Delhi, New Delhi, India
Shiraz University (انشگاه Ø´Ûراز), Shiraz, Iran
Syracuse University, Syracuse, New York
Technische Universität Berlin, Berlin, Germany
Tehran University of Art (دانشگاه هنر تهران‎) , Tehran, Iran
Tennessee State University, Nashville, Tennessee
Texas A&M University, College Station, Texas
The Cooper Union for the Advancement of Science and Art, New York City, New York
The Pennsylvania State University, State College, Pennsylvania
The State University of New York College of Environmental Science and Forestry, Syracuse, New York
The University of Arizona, Tuscon, Arizona
The University of Tennessee at Chattanooga, Chattanooga, Tennessee
The University of Texas at Arlington, Arlington, Texas
The University of Texas at Austin, Austin, Texas
The University of Texas at San Antonio, San Antonio, Texas
The University of Vermont, Burlington, Vermont
Thomas Jefferson University, Philadelphia, Pennsylvania
Universidad Católica del Norte, Antofagasta, Chile
Universidad Nacional Autónoma de México, Mexico City, Mexico
Université de Carthage, Tunis, Tunisia
Université de Monastir, Monastir, Tunisia
Université Mohammed V de Rabat, Rabat, Morocco
University of Alaska Anchorage, Anchorage, Alaska
University of Alaska Fairbanks, Fairbanks, Alaska
University of California Los Angeles, Los Angeles, California
University of California, Berkeley, Berkeley, California
University of Canterbury, Christchurch, New Zealand
University of Central Florida, Orlando, Florida
University of Cincinnati, Cincinnati, Ohio
University of Colorado Boulder, Boulder, Colorado
University of Illinois Urbana-Champaign, Urbana, Illinois
University of Missouri, Columbia, Missouri
University of New Hampshire, Durham, New Hampshire
University of North Texas, Denton, Texas
University of Oregon, Eugene, Oregon
University of Technology Sydney, Ultimo, Australia
University of Victoria, Victoria, British Columbia
University of Wisconsin-Madison, Madison, Wisconsin
University of Wisconsin-Milwaukee, Milwaukee, Wisconsin
Vermont Technical College, Randolph Center, Vermont
Virginia Polytechnic Institute and State University, Blacksburg, Virginia
Wake Forest University, Winston-Salem, North Carolina
Wentworth Institute of Technology, Boston, Massachusetts