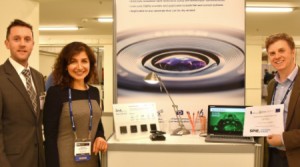 Photonics Innovation Village at SPIE Photonics Europe 2018 showcases research and innovative products from universities, nonprofits, and research centres. The innovative researchers taking part in the program gain free exposure and take part in a competition for prizes by sharing their latest findings to industry innovators and other photonics visionaries.
Submit your application by 23 October.
Purpose of the Innovation Village
| | |
| --- | --- |
| • | Support and publicise research teams from universities, non-profit institutions and research centres who are working on research, new applications and product development. |
| • | Provide free exhibition space together with broad exposure and publicity to the young innovators who are developing the photonics-based products of the future. |
| • | Showcase Europe's (and the world's) finest research programmes and to encourage the transfer of optics/photonics research and technology into new and useful products. |
Benefits of participating
| | |
| --- | --- |
| • | Gain visibility to the international attendees of SPIE Photonics Europe, including technical attendees, press, and other officials. A special effort will be made to invite Venture Capital companies. |
| • | One complimentary "mini booth" space in the Photonics Innovation Village section of the SPIE Photonics Europe Exhibition. |
| • | One complimentary technical pass to SPIE Photonics Europe per group. |
| • | A project description will appear on the SPIE web site. |
| • | Included in press releases distributed to all industry publications. |
| • | Winners will receive an award of €1500. The first and second runner-up will each win €500. |
| | |
| --- | --- |
| • | The village will include one panel for displays and explanations, a table, and chairs. |
| • | It is mandatory to display a prototype or demonstration; however, the demonstration does not need to be continuous. It is recommended to also supply English-language literature describing your product. |
| • | Please ensure that you take out insurance cover for your products as appropriate. |
Eligibility
| | |
| --- | --- |
| • | The initiative can come from anyone active in the wide domain of photonics. There is no limitation on the number of team members, but three is the recommended number. Your team can be based anywhere in the world and can have affiliations and connections to other non-profit or profit making groups or companies. |
| • | You must have developed an actual product or have a prototype of the product which can be displayed. (Software for specific applications related to photonics is acceptable, as long as it can be demonstrated.) |
| • | Commercialised products currently being sold will not be considered. Basic improvements on existing products will also not be considered. |
| • | You must be able to attend Photonics Europe and be present at your booth. |
How to apply
Submit an application of no more than three pages with:
| | |
| --- | --- |
| • | A description of your product or prototype or demonstration. |
| • | A description of the photonics technologies involved with your product. |
| • | A description of the purpose of the product and the potential market. |
| • | A description of your institution, research centre or company, and the funding of the project, which led to your innovation. |
| • | A description of the team itself, its members and their primary activity (student, grad student, professor, researcher, other). |
Application for participation in the Photonics Europe 2018 Innovation Village should be sent to Sylvain Lecler ([email protected]), University of Strasbourg, by 23rd October 2017. Preliminary questions can also be forwarded to Sylvain Lecler.
The organizing partner will review all applications, after which they will select and invite teams. You will be notified regarding your invitation within 2 weeks after the submission of your application.
Space is limited! It is recommended to apply as soon as possible.