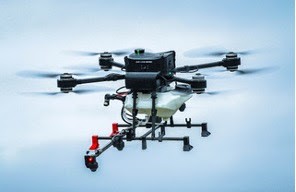 Drone Volt, embedded artificial intelligence expert and professional civil drone manufacturer, presents the new autonomous spraying system compatible with the HERCULES 20 drone for the precise and optimal treatment of agricultural crops.
Thanks to its precision spray flow control, the HERCULES 20/Sprayer combination meets the challenges of precision agriculture aiming at improving the yields and the environmental performances of crops. It has the advantage of also treating uneven, difficult to access or sloping agricultural plots, thus limiting human risks.
The spray device integrates a mounted frame, a 12-liter tank and a foldable spray boom, equipped with 4 rotating head nozzles.
The unit can be attached quickly and easily to the HERCULES 20, a large 8-engine carrier, dedicated to carrying heavy loads such as this new sprayer tool.
Equipped with a large capacity tank, the fully customizable tool allows the operator to efficiently and accurately spray an area of 1 to 2 hectares, depending on the droplet size setting programmed via a mobile app. The IPX7 standard ensures the droplet size control system is resistant to liquids.
95-100% of the droplets are of identical size, which allows for the system to provide exactly what is needed.
The homogeneous distribution of the drops is a key element for optimizing the quantity of inputs used because droplets that are too large can fall off from plants and droplets that are too small can dissipate in the atmosphere.
This device allows to save up to 30 to 50% of input products and up to 90% of water used compared to conventional hydraulic spraying systems.
"This new tool, combined with our high-performance HERCULES 20, is the ideal solution for carrying out autonomous and efficient spraying missions. Dedicated to precision agriculture, our technology rationalizes phytosanitary products, limits environmental impacts and thus contributes to the transition towards advanced agriculture." highlights Marc COURCELLE, CEO of DRONE VOLT.