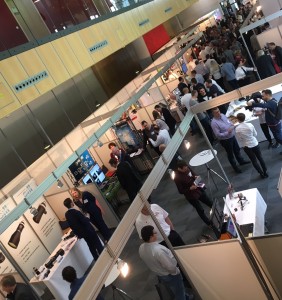 The third edition of the Stemmer Imaging machine vision technology forum in Unterschleissheim near Munich (Germany) was held with a record attendance of more than 750 vision experts and users mainly from Germany, Austria and Switzerland. As in the previous editions in 2013 and 2015 the forum came with a mix of more than 50 technical presentations in six presentation blocks that could be individually booked prior to the event. After the presentations, discussion of the technological background and developments presented took place in the exhibition area where the distribution partners of Stemmer Imaging had their booths. One positive aspect of the event was again the clear focus of the presentations on technology rather than pure products.
Acceptance procedures and super-high resolution
Having seen many machine vision projects failing even in the last phase of implementation, Attentra CEO Christian Vollrath held a passionate pleading for exemplary acceptance procedures of machine vision systems. Vieworks tried to answer the question of who is the target market for their new ultra-high resolution camera with no less than 155 megabyte resolution, and why; and stated that their customers in LED and flat panel inspection would indeed continuously ask for more resolution. It was even stated that the new pixel record could initiate a trend. Silicon Software put a focus on the optimal creation of light sequences as a key element to capture image data that can be processed and further evaluated.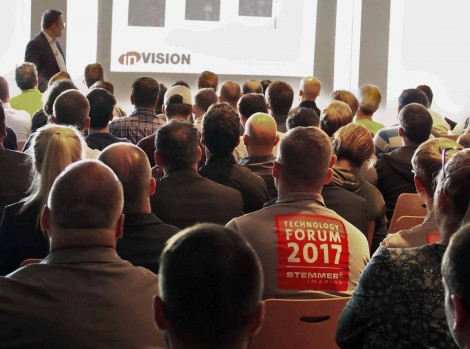 MIPI CSI-2
Jochen Braun from Allied Vision explained the MIPI CSI-2 interface, which is already most widely adopted in mobile devices as one new camera interface for machine vision. He announced that his company is working on a first embedded camera system based on this standard, with a target release in the middle of next year.
Chemical color imaging, hyperspectral and spectroscopy
Chemical color imaging as a way to make hyperspectral cameras suitable for industrial use was what Perception Park talked about. Hyperspectral imaging was also addressed in a comprehensive overview of the most established technologies and possible applications given by Spectronet's Paul Gerhard Dittrich. A future trend he sees is that spectroscopy will become more and more handheld with solutions e.g., in smartphones.
Deeply embedded
Stemmer Imaging CEO Martin Kersting presented a classification of hard- and software for embedded machine vision systems, ranging from an embedded PC over system-on-chip solutions to what he called deeply embedded systems, addressing just one single application in mass markets and able to operate with low power consumption not even in need of an operating system. It was here and in other presentations on embedded vision where the NVIDA TX1 and TX2 embedded systems-on-chip were mentioned as a possible link for integration on the factory floor. Why Adlink, however, promoted the Data Distribution Service (DDS) protocol as a competing standard to OPC UA, which is currently pushed forward by the VDMA for this integration in the factory, remained rather unclear. Fitting into this context was a speech held by a KUKA representative on robotics as a service who, since data would be the new oil, predicted a shift from today's attitude to directly own the means of production towards providing the means as a service.
New trends include new players
Other trends that were addressed during the forum are in-line 3D measurement that steps out of the measurement room; intelligent security cameras that recognize both residents and strangers; the lasting need for speed and with it the next generation of high-speed interfaces; but also new players entering the industry coming from Asia such as Hikvision of through M&A project in the ongoing concentration process.
Earlier this year Stemmer Imaging founder Wilhelm Stemmer sold his entire shares of the company he once founded, and during the evening event the CEOs Christof Zollitsch and Martin Kersting gave some more insight on the new shareholder structure that now also includes the middle management. In addition, the new main shareholder AL-KO AG held a short welcome speech.
Munich is not the only location of this event as Stemmer Imaging holds it in several other countries. The other locations this year for the technology forum machine vision are Stockholm (24 October); Eindhoven (07 November); Paris (09 November); and Silverstone (16 November). The next technology forum in Germany is planned for 2019. However, what makes the German location unique is that, like two years ago, the football stars of FC Bayern Munich were meeting up in the conference hotel during the Stemmer Imaging even on the day of their Champions League home match; a fact that caused excitement amongst the football fans at the conference attendees.
Written by Andreas Breyer, Senior Editor, Novus Light Technologies Today