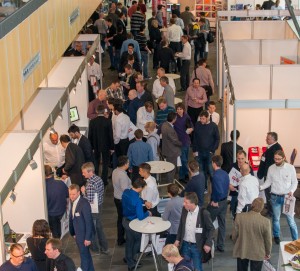 With VISION now taking place every other year, the machine vision industry is talking about the "gap" and how to fill it in the uneven years. While some companies intensify their presence at other trade shows Europe's largest distributor of machine vision technology has chosen to set up its own biennial event. The Stemmer Technology Forum comes as a combination of conference and some 40 partners of Stemmer Imaging exhibiting during the two days. On the two days of the event from 3-4 November in Munich 90 presentations of 25 minutes length each where held in five parallel sessions in front of the 500 participants, a remarkable 40 percent increase in attendance compared to the first event held in 2013.
The clear focus of the presentations was technology. Machine vision experts explained technological background and developments, which afterward could be discussed more deeply at the booths in the exhibition hall. Stemmer Imaging held a presentation on the future of USB3 Vision in which it showed that the next USB 3.1 version will double the bandwidth and the USB Type C connector will be the next generation enabling the cable use in both directions.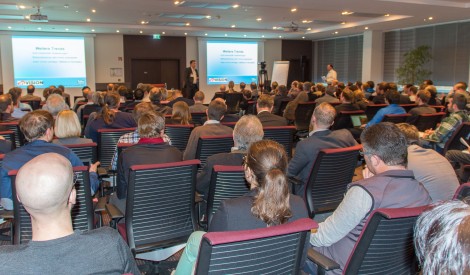 Teledyne DALSA was present with several presentation titles such as cameras for the entire wavelength range and how cameras and interfaces can be combined to an optimal interaction. Metaphase showed applications of their lighting technology mainly for line scan inspection in various industries including blueberry inspection and automotive hood inspection. Smart Vision Lights presented its infrared LED solution on how to measure the outer diameter of hardwood logs with a vision system mounted right on the crane that moves the logs. Gardasoft explained its Trinity Technology for intelligent machine vision lighting and announced that a third partner from the lighting business would join CCS and Smart Vision Lights to use the technology soon. Components Express contributed a speech about selecting the appropriate cables for vision systems providing valuable information on the structure and different features of various cables as well as differences in quality. Automation specialist Bernecker + Rainer Industrie Elektronik contributed a presentation on vision integration system architecture of a production unit. The range of presentations addressing all technical aspects for machine vision was complemented by some more general speeches such as the relevance of IOT and Industrie 4.0 for the industry and top 10 trends machine vision trends.
Stemmer Imaging is taking its Technology Forum on the road. The other locations are Eindhoven (1 December); Paris (3 December); Silverstone (3 March 2016); and Stockholm (8 March 2016). What was unique in Munich; however, was the excitement that the football stars of FC Bayern Munich were meeting up in the conference hotel on the day of their Champions League home match. This was a good chance for the winners of the Casino gambling of the evening event to take a first look at the players before they enjoy their tickets for Bayern matches later in the season.
Written by Andreas Breyer, Senior Editor, Germany, Novus Light Technologies Today