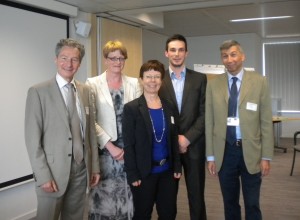 A workshop held on 18 June was part of a new initiative, launched in January 2014 by the European Commission, in order to stimulate innovation in small and medium-size enterprises (SMEs) through the identification of existing Key Enabling Technologies Technology Platforms (KETs TPs) across Europe.
The European Commission and Steinbeis-Europa-Zentrum organized the workshop to enhance collaboration and support the access of SMEs to the services offered by these platforms. EPIC attended this workshop as it is the industry representative for Photonics on the European Commission Key Enabling Technologies High Level Group.
As part of this initiative, the underlying project focuses on the pan European dimension and on building an inventory of KETs TPs. The inventory will be published through a web portal in the second half of 2014 with the aim of facilitating the identification of KETs TPs throughout Europe. EPIC shared a list of 42 existing associations, clusters, and technology platforms dedicated to Photonics in Europe. The main objective of the project is to perform a gap analysis to identify potential mismatch between the demand (SME needs) and supply side (the type of equipment/services/trainings provided by KETs TPs at European level).
The final outcome of this initiative will be to provide recommendations to the European Commission on how to support the pan- European access of SMEs to KETs Technology Platforms. The workshop presented the methodologies and processes for the development of:
1. Inventory of KETs TPs throughout the EU by identifying organisations which provide expertise and technological services (prototyping, demonstration lines, lab test facilities, pilot lines etc.) related to one or several KETs to industry and especially to SMEs.
2. Case studies of KETs TPs showing real cases of successful collaboration between KETs TPs, its impacts (long and short-term) and its transferability to other types of technological research centres.
3. 5 pilot study visits throughout the EU including 5 KETs TPs.
4. Recommendations for future policy actions for improvement of KETs TP collaboration.
Among 65 selected participants from different sectors who presented their ideas linked to the project and provided feedback were several representatives of EPIC member organizations including companies (STMicroelectronics), research organizations (CEA, TNO, University of Latvia, VTT) and regions and networks (Knowledge Transfer Network (UK) and photonics cluster OPTITEC (Provence-Alpes-Côte d'Azur region, France)).
Written by Ziga Valic (Photonics Cluster OPTITEC, France) and Carlos Lee (EPIC – European Photonics Industry Consortium).