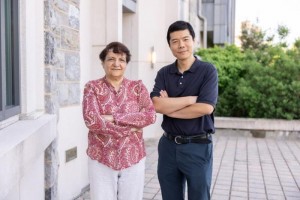 Imagine you just swallowed a pill containing a miniature camera that will help your doctor collect images to diagnose a condition you've been battling for years. No, it's not something from the latest science fiction or Marvel Comics movie – it's a technique called bioimaging.
While traditional methods of bioimaging such as an MRI, CT scan, or an X-ray are more commonly known, the use of nanodevices is becoming more popular. They are less invasive and provide health care professionals with a closer look deep inside tissue.
Researchers from Virginia Tech's College of Engineering and College of Science are using their expertise in quantum photonics and nanotechnology along with funding from the Air Force Office of Scietific Research and the National Science Foundation to develop a groundbreaking nanodevice that can transform low-energy light into high-energy light across a broad spectrum. By enhancing interactions between light and matter at the nanoscale, these devices have increased versatility and are more sensitive to the bodily events happening at the device's surface when compared with those currently used in the medical industry.
Small but mighty
The research team, including Professor Wei Zhou in the Bradley Department of Electrical and Computer Engineering and Professor Giti Khodaparast in the Department of Physics, has uncovered fundamental principles in quantum mechanics that have inspired a novel design to optimize the performance of these optical nanotransducers.
"The really exciting part of our research is the potential for these devices to make significant strides in bioimaging and biosensing," said Zhou. "They enable researchers to simultaneously gather a variety of information at the intersection of nano and biological systems using different wavelengths of emitted light."
Researchers will be able to see what's happening at the interface between biological systems and nanodevices, such as voltage changes in brain activities or alterations in biomolecule concentration. By transferring high-energy light from low-energy light, these nanotransducers can capture clearer images to help improve our understanding and diagnoses of various diseases and conditions.
Lifesaving technology
In addition to Zhou and Khodaparast, graduate students from both electrical and computer engineering department and the physics department have played critical roles in this cutting-edge research and have transferred that knowledge to their current work.
Seied Ali Safiabadi Tali earned his Ph.D. in electrical engineering in 2020 and has since been working as a photonics engineer at Quantum-Si.
"It's amazing to think that the work we are doing can change people's lives for the better," said Safiabadi Tali. "This new technology could potentially make bioimaging clearer and allow doctors to spot diseases earlier. Earlier detection means earlier treatment which is critical for many terminal illnesses."
As a photonics engineer at Quantum-Si, Safiabadi Tali works with a multidisciplinary team of scientists to develop a single-molecule protein-sequencing platform that can transform the scientific community's understanding of the human proteome, unlocking unprecedented insights into the human body. Safiabadi Tali's research in quantum optics, photonics, and biosensing at Virginia Tech has prepared him to continue innovating in Quantum-Si's multidisciplinary workspace.
Physics alumna Rathsara Herath, who also worked on the project, has been using her gained expertise in advanced materials characterizations in her current role as a technology development module and integration yield engineer at Intel.
"I learned a lot from this project when it comes to bioimaging," said Herath. "The setup of our equipment in the lab needed to be very precise to get accurate data. We also had to make sure that we didn't damage the materials with the high-powered laser systems we use, which took a lot of time and patience to get just right."
Beyond health care
Although this novel photonics device is nanoscopic, its potential for future applications is colossal.
"The implications of our breakthrough extend well beyond the realm of health care," said Zhou. "These resilient nanodevices are made of highly stable materials that are designed to last for extended periods and are virtually resistant to damage. By incorporating our advanced nanophotonic sensors into existing semiconductor and photonics systems, we can greatly enhance the performance of biomedical equipment and more."
Future applications include monitoring water environments in real time, diagnosing leaks in oil and gas pipelines, and detecting explosives or chemical weapons.