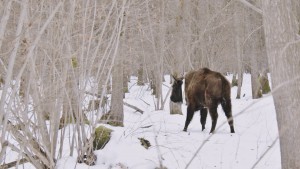 Saule Technologies, a company developing a new generation of solar cells, created a telemetry device to support European bison preservation in Ukraine. The solar-powered collar was designed to be more optimal for monitoring big wildlife than commercially available asset-tracking devices. The project was executed in collaboration with WWF (World Wide Fund for Nature) Ukraine and co-financed by the United Nations Development Programme (UNDP) and the Polish Challenge Fund.
European Bison is one of the species targeted by WWF to recover in Europe, particularly in Ukraine. Tracking the animals provides excellent value in understanding the bison's habitat and nature. It also helps manage general herd movement in the forest or field.
A solar-powered collar resolves the problem of the short lifetime of similar, commercially available devices. Capturing big, long-lived mammals, such as bison, to replace the battery is troublesome and costly.
"Perovskite solar cells are perfect for this application," says Vivek Babu, project leader in Saule Technologies. "They work in all the light conditions, including shadowed areas, and they can be integrated into a flexible collar."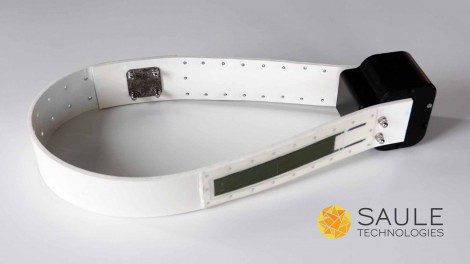 The perovskite solar modules were ink-jet printed on flexible substrates, which allow the modules to resist damage under an impact of force or adapt to the collar as the animal moves or grows. The modules were sealed with robust encapsulation techniques for protection from dynamic bison behavior and harsh environmental conditions.
The prototype telemetry collar uses a GPS sensor that tracks the location and sends the data via LoRaWAN communication protocol. The collar, as well as the tracking application and the transmission infrastructure, were designed, built, and installed by the Saule Technologies team with guidance and support of the WWF Ukraine team, namely Bohdan Vykhor - Wildlife Practice Manager.
The project team chose the bison population in Styr Hunting Enterprise, Lviv region, in Ukraine for the prototype testing. During the third and final trip to Ukraine, one male and one female bison, later named "Adam" and "Ewa," were captured and collared successfully. After the initial testing phase, we will be working on further optimizing the tracking collar and its functionality.
The initiative responds to the Sustainable Development Goals (SDG) of the United Nations, mainly Climate Action, Life on Land, Sustainable Cities and Communities, Affordable and Clean Energy, and Partnership for Goals. "Saule Technologies is proud to create solutions that can make a positive change in the world," says Olga Malinkiewicz, founder and CTO.
The project gathered the experience of various institutions in Poland and Ukraine, such as WWF in Poland and Ukraine, Warsaw University of life Sciences, West Pomeranian Nature Society in Poland, and Lviv State Forest and Hunting Department. We received great support at every stage of the project, from Ph.D. Bohdan Vykhor, Wildlife Practice manager at the WWF Ukraine.