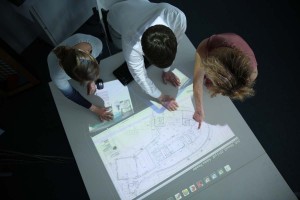 The demands on modern office workplaces are constantly rising. More and more information from different sources needs to be processed simultaneously, and activities have become more complex, multi-layered and also increasingly distributed, which is accompanied by a growing demand for communication through various channels. The relevant IT infrastructure reflects this change much better through highly dynamic development than the systems that users ultimately work with. IT workstations and user interfaces have not fundamentally changed in the last 20 years: One or at best two monitors, keyboard, and mouse and for CAD applications a SpaceNavigator are still the standard. At the same time development of display but also of interaction technology is rapidly moving forward.
ProTable, new digital work environment
This is a main research area of the Visual Technologies Lab at the Fraunhofer IAO in Stuttgart/Germany. Together with industry partners Schaeffler and Wittenstein new working environments are developed. One of the projects is the ProTable, a camera-based digital work environment especially for work in project groups for meetings, as well as for use as single workstation for special tasks. Combined with a stylus-pen for touch applications a high-definition projection transforms an ordinary conference table into a digital working space, providing enough pixels and space for spreadsheets, text documents, presentations which can be used in parallel and moved around randomly just like paper documents.
"Smartphones and Tablet PCs with touch pads have prevailed in private use and created a new, efficient way of human-computer interface. We want to transfer the existing technologies and opportunities into business use and further develop the methods and possibilities in product development", explains Peter Gerber, Manager Engineering Methods at Schaeffler AG the motivation of his company to participate in the research project.
3D objects such as CAD models can be seamlessly integrated into the 2D-window environment of the ProTable...
The system layout contains two 4 k projectors that generate a square picture e.g. onto the surface of a normal conference table and project a dpi rate high enough to display text which can be scaled and rotated out of the pixel raster. This is supplemented by two camera systems. Firstly, a Time-of-Flight camera which runs at 30 fps and delivers the depth image and the infrared signal. "Together with pre-defined algorithmic constraints we can detect a hand and its movements", explains Dr. Matthias Bues, Head of the Visual Technologies Lab. The second camera system is a stereo vision tracking camera to integrate the display of 3D objects using tracking glasses equipped with retroreflective markers. By this, 3D objects such as CAD models can be seamlessly integrated into the 2D-window environment of the ProTable; and the interactive surface of the table turns into interactive space. For cost saving reasons the components used are primarily high-end consumer products such as the Microsoft Kinect V2.
The software behind this is Virtual Desktop 1 (VD1). "Developed at the Fraunhofer IAO the software offers the possibility of a 2D and 3D Desktop integration and the free rotation and scaling of all software installed on the computer system. By this, spreadsheets, presentations or text documents can be moved around like paper and even scaled without changing the visual content", explains Dr. Bues. The whole system layout enables user interfaces through finger touch, Stylus-pen as well as traditionally through mouse and keyboard.
At Wittenstein the ProTable is integrated into the Wittenstein Innovation Factory and here part of a new meeting room concept called "cube 1". "Once we have overcome the experimental stage together with Fraunhofer IAO and the system is fully integrated and adjusted to our needs the ProTable will be used frequently for interactive customer meetings", Dr. Michael Geier, Managing Director at Wittenstein cyber motor GmbH. Initial experiences at Schaeffler have shown that the tables perfectly support collaboration in small groups and promote the exchange of information. "Particularly suitable areas of application are complex activities in which a lot of information must be brought together and graphic presentations are used. Examples of application areas are multidisciplinary modeling of mechatronic systems, the visualization of system behavior and decision support in terms of technical solutions and alternative concepts", says Peter Gerber .
Written by Andreas Breyer, Senior Editor, Germany, Novus Light Technologies Today