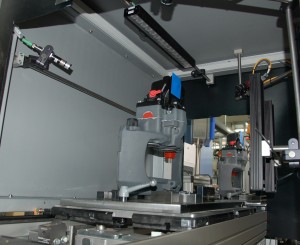 An industrial vision system to inspect disc brakes has been developed for Knorr-Bremse, the world's leading manufacturer of disc brakes for commercial vehicles. Developed by Stemmer Imaging in collaboration with Neupro-Solutions and featuring line laser illumination, three cameras and intelligent imaging software, the system inspects the brake assemblies and checks the correct mounting by comparing the results to stored data. This ensures correct and therefore safe operation in the vehicle.
The Knorr-Bremse manufacturing facility produces 1200 different brake types for use in commercial vehicles, ranging from 6-ton to 44-ton trucks, buses and towing vehicles through to the trailer sector. The inspection system allows inspection of 64 different characteristics.
The disc brakes leave production mounted on a workpiece carrier and are checked with great precision in a dedicated inspection area. The entire measurement process including laser triangulation, pattern recognition, colour recognition and measurement of components is carried out within milliseconds to determine whether the brake is correctly mounted according to the specified parts list and assembly guidelines held in the database. If a defect is detected, the database contains information as to whether it can be eliminated by reworking.
The system uses three AVT cameras equipped with Schneider Kreuznach lenses and two line lasers from Z-Laser. The automated inspection is carried out using Sherlock image processing software from Teledyne DALSA. A Neupro-Sherlock plugin for Oracle transfers the data to the database. Both image data and inspection data are archived in the database and then transferred to a higher-level control.
The individual inspection algorithms are global and are recalled via the database using the part number of the particular brake assembly. In addition, it is possible to statistically evaluate the measurement data stored in the database and to perform a statistical approximation within the predefined threshold values.