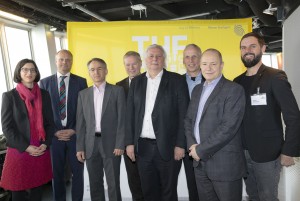 According to VDMA statistics German machine vision turnover in Germany experienced a spectacular increase of 18% in 2017, and the forecast for 2018 is another 10% increase in turnover both in Germany and total Europe. Where this growth will be generated was then explained by the CEO panelists. Geographically, a good part is located in Asia, where much of the machine vision exports went last year. Rising demand for automation due an increasing wage level fostered machine vision demand there. Plus, much of the production of mobile devices that require machine vision inspection is located in these countries. Growing automation in Asia, however, also puts pressure on Europe to maintain its competitiveness, as Mark Williamson from Stemmer Imaging pointed out.
Addressing new competition
Basler's CEO Dietmar Ley sees the healthcare sector as a promising non-industrial business branch for the machine vision industry. Olaf Munkelt, CEO of MVTec Software warned that despite the fact that the automotive industry will always have demand for machine vision technology if the European industry players don't increase competence in new drive technologies, the sector will move to other countries, predominantly in Asia. With large Chinese players such as HIKVISION having entered the European machine vision market, Ley said that 'Dooms Day' is not close yet for European enterprises, but new competition needs to be addressed with adapted strategies and higher agility.
A big strength the CEOs see amongst the European players is the competence to configure and develop machine software and systems in order solve specific problems, rather than the generic approach of Chinese players to optimize production. Lou Hermans from Capital-E added that the true machine vision knowledge nowadays lies in the right combination of optics, camera, lighting and software to make a robust system; and software programming such as for ease of use has become the critical and more costly part of a machine vision system rather than hardware. A lot of innovation potential is seen by the panelists in numerous non-manufacturing fields from autonomous driving to completely new formats such as Amazon Go. Here, the established machine vision players should try to take at least a piece of the cake, although customer markets and structures often are different than in the 'classic' industrial business.
Embedded vision
Furthermore, one megatrend that was discussed is embedded vision, which Dietmar Ley likened to a popcorn machine that hasn't yet begun to pop. However, once it does, the business is there and the structures are laid out, so the established machine vision players do well to get into the popcorn machine before it starts to pop. On the contrary, Managing Director of Silicon Software, Klaus-Henning Noffz doubted that the established machine vision players will enter the embedded vision fields driven by consumer markets on a broad front. It would better to focus on improving factory floor automation in the context of Industry 4.0. It was agreed that PC-based systems will not be replaced entirely by embedded systems.
Industry 4.0
With regard to the role of machine vision within Industry 4.0, it is not only seen as the eye of production but also provides important data to automatically improve production processes. "Get the data onto the data river" is the challenge to really make use of it and add value, according to the CEOs. OPC UA is seen as a standard here that allows communicating within the factory over one single software interface and closing the feedback loop within Industry 4.0.
Deep learning
Deep Learning as another megatrend in the machine vision business has been around for some decades and is a pillar of the success of Google, Amazon and other internet pioneers, as it was pointed out. But only now the computational power exists to use it for machine vision applications, as Olaf Munkelt pointed out. For him the issue in the machine vision sector is to create a deep learning system that does not need millions of pictures to be trained on, but maybe several hundred. Heiko Frohn, CTO of Vitronic pointed out that deep learning opens up new possibilities to the machine vision industry but does not replace the existing technology based on programming algorithms to define parameters. He also stated that deep learning as well as embedded vision is are not driven by the machine vision industry anymore but need to be addressed by the machine vision players to have the chance to actively shape them in order to not be pushed into niches in future.
VISION trade show project manager Florian Niethammer reported that in total he expects a record number of 450 exhibitors this year at VISION 2018. Already more than 300 exhibitors have registered and confirmed their exhibition space. Out of them some 60% come from abroad and around 50 companies will exhibit for the first time at this trade show which takes place from 06 to 08 November, 2018 at Messe Stuttgart.
Written by Andreas Breyer, Senior Editor, Germany