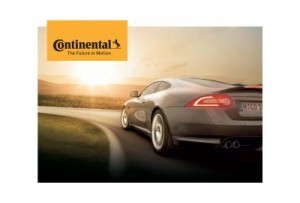 Vision inspection in the production sites for electronic braking systems in the Business Unit Vehicle Dynamics of Continental has evolved over the years along with the evolution of machine vision technology. It was just beginning to evolve in 2004 when Nuria Garrido López, Senior Expert Camera Inspection Systems and Methods, started to lead the global machine vision inspection activities. Each production site had its own systems with local integration partners, and there was no centralized knowhow.
"My first task was to develop a common standard on vision inspections at Continental" López says. In those days machine vision inspection at Continental was almost entirely based on smart cameras. As each of them performed one specific inspection task, once an inspection task changed the entire system had to be reprogrammed. Still, smart cameras fit the requirements of that era which were predominantly standard inspections such as presence/absence, or measurements within the assembly processes. With an increased product variety and rising complexity of the products smart cameras, however more and more reached their limits. Gradually, also the number of cameras installed in the production lines grew while production cycles and time to market were continuously shortened. This raised demand for new machine vision solutions.
The maturity and breakthrough of GigE Vision as an established interface standard by 2009 brought an answer and enabled the formation of a communication network between the cameras in the Continental production lines.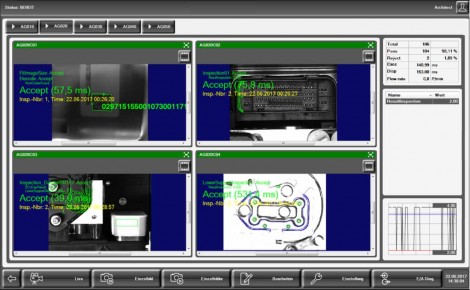 Vision Interface with four typical inspections: DMC read, part quality inspection, presence/absence inspection of assembly parts and inspection of correct assembly of different pieces. Photo courtesy of Continental.
Another big advantage of the new standard proved to be Power over Ethernet (PoE), which additionally facilitated the integration of inspection systems on the lines. Subsequently, refitting began in the Business Unit from smart cameras to PC based machine vision systems using GigE Vision. Also, a new modular internal Continental standard for machine vision systems was introduced worldwide. Along with that, partners were found for integration and hardware supply meeting the new demands. The use of camera inspection grew significantly from less than five to nowadays up to 100 cameras in a production line.
In-house developments and external partners
While machine vision inspection played an ever greater role in meeting the rising quality demands, the team around Nuria Garrido López decided to develop and implement a standardized internal camera release process for future machine vision systems. The process is initiated by a so-called "vision inspection request" that may come from a production unit, from R&D, quality or from the product design department.
"The vision inspection request also helped to form a common culture within Continental to communicate amongst departments. Requests can arise internally not only when new production lines are planned but also to improve existing production processes. In addition, since all units are connected, possible inspection requirements can be foreseen".
The vision inspection request contains the main requirements posed to the inspection tasks as well as variances, tolerances and possible mechanical limitations and is basis for a feasibility study. After a positive review a specification is made containing suitable components such as lenses and lighting.
"Wherever possible we use standard components. If this is not possible, the use of alternatives begins. For instance, at the moment we evaluate the use of an endoscopic camera that can be applied in an industrial environment to inspect the inner surface of production parts", says Lopez.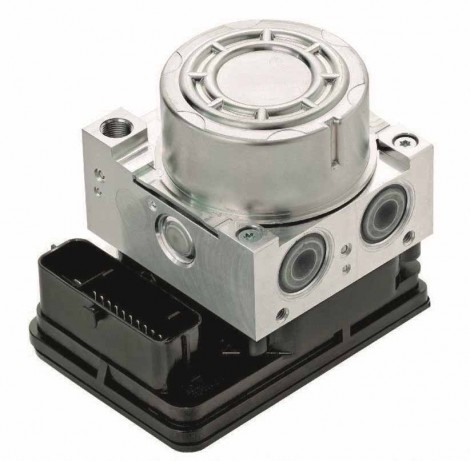 The Continental electronic brake system MK 100 is based on a modular product family and can be scaled as desired. With the MK 100 ESC safety and assistance functions can be configured. Photo courtesy of Continental.
System integrators play an important role to implement machine vision technology worldwide at Continental, according to the vision department's requirements. With their assistance, successful in-house pilot applications at Continental in Germany are rolled out in all factories according to the uniform and technological open architecture of the Business Unit's vision implementation standard.
Industry 4.0 and networking production
Although the communication network between cameras has long been installed at the Continental production lines, communication to other production units still remains a hurdle without compatibility with standards such as Profinet and Profibus and GigE Vision. The same applies when cameras communicate directly with an MES system, an Oracle database or with robots that use the low-area protocols TPC-IP and Profinet. She hopes that implementation of OPC UA as a standard protocol is going to establish soon.
"My interpretation of Industry 4.0 is when the analysis of the data collected by cameras automatically leads to adjustments in production processes. I can also think of vision-based Augmented Reality (AR) tools for this", says López.
Deep learning and hyperspectral imaging on the factory floor
López evaluates opportunities of new technologies and checks the range of suppliers from large established players to start-ups. A choice of products gets the chance to be tested in the Continental vision lab. Deep learning is currently in her focus as this technological approach operates without deep analysis of inspection tasks and development of respective algorithms.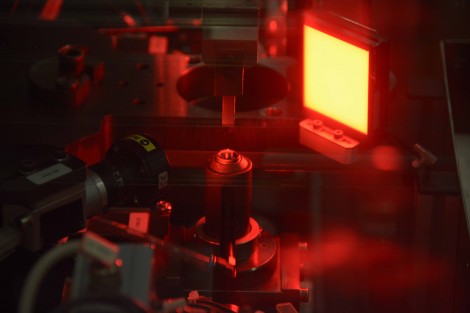 Online inspection scene of electronic break systems at Continental
"Deep learning has the potential to solve issues that were hard to be solved by classic algorithms. For inspection tasks where the defects cannot be clearly classified or have great variety, Deep Learning could provide a solution", she says.
Still, the Continental vision expert doesn't believe that Deep Learning will entirely replace classic machine vision: "A major challenge is that Deep Learning is perceived as a non-transparent black box." This is why the vision inspection team runs offline tests with Deep Learning solutions on already solved inspection tasks with classical algorithms. That allows to get a benchmark of cycle and communication times but also to evaluate how the neuronal network can be trained and how it performs. Also other technologies such as hyperspectral imaging, chemical color imaging or computer tomography are not standardized in the Continental production yet but subject to evaluation.
"Our internal vision standard is open to integrate new technologies and as such we continuously search and test new approaches", emphasizes the Senior Expert Camera Inspection Systems and Methods at Continental.
Written by Andreas Breyer, Senior Editor, Germany