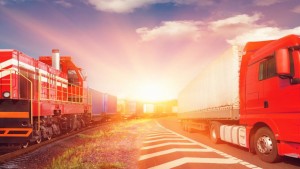 Early detection of possible failures and fires by detecting overheated areas (also known as hot spots) in passenger and freight transport has the potential to significantly increase safety in road and rail traffic. However, previous approaches do not adequately meet the requirements for contactless and seamless thermographic monitoring of vehicles. In the BMBF-funded project BiCam, Fraunhofer IAF and DIAS Infrared GmbH are developing an outdoor camera system over a period of two years that combines eSWIR and NIR spectral ranges. The system will for the first time enable continuous visual and thermographic monitoring of flowing traffic.
Overheating vehicle parts and cargo (hot spots) pose a risk to rail and road safety. They can lead to failures, fires and serious accidents. Thermographic monitoring is able to detect hot spots at an early stage, but places high demands on the underlying measurement system for continuous use in traffic monitoring. In the project BiCam (Fast infrared line scan camera for electronic position and temperature monitoring), the Fraunhofer Institute for Applied Solid State Physics IAF and DIAS Infrared GmbH are developing a bispectral camera system for outdoor use. As a complete solution, this will for the first time allow contact-free and seamless thermographic as well as visual monitoring of moving objects at high speed.
Researchers at Fraunhofer IAF are developing a novel detector array chip for temperature measurement in the extended Short Wavelength Infrared (eSWIR) for the system. The project partner is combining the chip with a sensor in the Near Infrared (NIR) for detailed visual imaging and is integrating them into a complete system. Combining the signals from both spectral ranges enables the exact location of hot spots in ongoing traffic. The German Federal Ministry of Education and Research (BMBF) is supporting BiCam as part of the "KMU-innovativ" funding program.
Resilient solution for more traffic safety
"In BiCam, we want to realize a comprehensive solution for thermographic traffic monitoring in the outdoor area, which does justice to different types of traffic as well as potential hazards," says Dr. Andreas Wörl, responsible project manager on the part of Fraunhofer IAF, explaining the added value of their camera system concept. The demand is great, he says, because systems at the current state of the art each have specific weaknesses: They are limited to individual application groups (for example, hot runners on rail vehicles), detect only low-speed objects (such as trucks in front of tunnel entrances), have high measurement error rates, do not achieve the required sensitivity at room and ambient temperatures without large energy losses, or are too maintenance-intensive.
The camera system that the partners are realizing in BiCam is designed to record every vehicle at speeds of up to around 350 km/h and temperatures of 75 °C to 400 °C with high spatial and temperature resolution, irrespective of the weather and time of day. The eSWIR detector array plays a decisive role in this, as Wörl explains: "The novel eSWIR detector array, which we are developing at Fraunhofer IAF on a III-V semiconductor basis, makes it possible for the first time to monitor flowing traffic seamlessly and without image compositions due to its vertical alignment. Monitoring ongoing traffic is essential, because hot spots are often undetectable after a stop, leaving potential defects and damages undetected."
Seamless monitoring through novel eSWIR detector array chip
Researchers at Fraunhofer IAF are developing the eSWIR detector array chip based on the quaternary material system indium gallium arsenic antimonide (InGaAsSb), which is grown and characterized in the institute's own clean room using molecular beam epitaxy. Target properties of the detector array include high detectivity and sensitivity in the wavelength range between 1.6 and 2.6 µm, a measurement frequency of 5 kHz, low inherent noise and uncooled operation.
Based on the detector array, DIAS Infrared develops an eSWIR sensor and an optical channel for joint imaging of the NIR and eSWIR image. The realization of the sensor head as well as the combination of all subcomponents to a complete system is also done by DIAS Infrared. The parallel use of a NIR sensor line within the system saves resources, since no second camera system has to be operated to visually locate the thermographic measurement. In addition, since time-consuming image composition is no longer necessary, the potential for errors is reduced.
Industrial applications
In addition to traffic monitoring, another possible area of application for the camera system is in industrial quality and process control, for example in the metallurgy and automotive sectors. Due to the low emissivity of metals, thermographic monitoring in the short-wave infrared generates significantly fewer measurement errors than systems in the long-wave infrared. The bispectral camera system could capture more precise and reliable data than current state-of-the-art solutions.