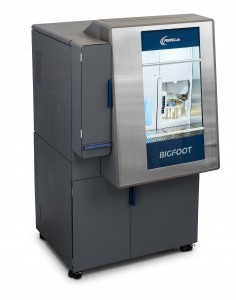 Propel Labs has announced the licensing of a Purdue invention that's being called a game-changer in the biomedical field to help advance cancer identification and patient monitoring.
A team led by J. Paul Robinson, the SVM Professor of Cytomics in Purdue's College of Veterinary Medicine and a professor in the Weldon School of Biomedical Engineering, created patented technology to perform spectral flow cytometry. This innovative type of cytometry, which is seeing tremendous growth in the market, can be used for diagnosis and monitoring in health care settings.
"Spectral flow cytometry has been a game-changing technology in the field," Robinson said. "We spent years trying to engage industry. Innovative technologies can take many years to enter the commercial world. The key aspect of our spectral patent focuses on the role of the spectral signature. That signature tells you everything you know about the cell."
The patent also was licensed to Sony Biotechnology, which first commercialized the technology and brought it into scientific and clinical laboratories. It now has been licensed by Propel Labs, based in Fort Collins, Colorado. Miftek also has an option.
"Our engineering and applications teams are excited to take this technology to the market as we anticipate spectral flow cytometry technology will be a driving force for accelerating new discoveries in cell sorting and related areas in the coming decade," said Tidhar Sadeh, president of Propel Labs.
Robinson said that the power of a spectral sorter is that it is the only technology that can successfully physically isolate high-parameter labeled cells.
"The Propel technology is absolutely state-of-art, and you can't get any better," Robinson said.
Propel released a new spectral sorter in May using an online presentation, in light of the COVID-19 pandemic.
"We have seen huge interest in our spectral technology," Sadeh said. "We are excited to partner with Purdue to enhance spectral capabilities in the future."
Robinson also is director or the Purdue University Cytometry Laboratories.
The team worked with the Purdue Research Foundation Office of Technology Commercialization to patent the technology.
"One of our key focus areas for OTC is human health and diagnostics," said Abhijit Karve, director of business development for OTC. "The technology from Robinson's team demonstrates the power of the Purdue ecosystem in developing and advancing technologies that make a difference around the U.S. and the world."
About Propel Labs
Propel Labs is a privately held biotechnology instrumentation company headquartered in Fort Collins, Colorado. Our experience and knowledge enables our team to design the next generation of bio-instrumentation tools. We focus on the customer by quickly delivering innovative products, enhancing their research to advance patient care.
About Purdue Research Foundation Office of Technology Commercialization
The Purdue Research Foundation Office of Technology Commercialization operates one of the most comprehensive technology transfer programs among leading research universities in the U.S. Services provided by this office support the economic development initiatives of Purdue University and benefit the university's academic activities through commercializing, licensing and protecting Purdue intellectual property. The office recently moved into the Convergence Center for Innovation and Collaboration in Discovery Park District, adjacent to the Purdue campus. In fiscal year 2020, the office reported 148 deals finalized with 225 technologies signed, 408 disclosures received and 180 issued U.S. patents. The office is managed by the Purdue Research Foundation, which received the 2019 Innovation and Economic Prosperity Universities Award for Place from the Association of Public and Land-grant Universities. In 2020, IPWatchdog Institute ranked Purdue third nationally in startup creation and in the top 20 for patents. The Purdue Research Foundation is a private, nonprofit foundation created to advance the mission of Purdue University. Contact [email protected] for more information.
About Purdue University
Purdue University is a top public research institution developing practical solutions to today's toughest challenges. Ranked the No. 6 Most Innovative University in the United States by U.S. News & World Report, Purdue delivers world-changing research and out-of-this-world discovery. Committed to hands-on and online, real-world learning, Purdue offers a transformative education to all. Committed to affordability and accessibility, Purdue has frozen tuition and most fees at 2012-13 levels, enabling more students than ever to graduate debt-free. See how Purdue never stops in the persistent pursuit of the next giant leap at purdue.edu.
Written by Chris Adam for Purdue News Service