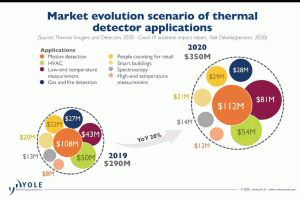 "For sure, the COVID-19 outbreak will have a big impact on the thermal detector and imager markets and industrial landscape at different levels" asserts Dimitrios Damianos, PhD, Technology and Market Analyst within the Photonics & Sensing division at Yole Développement (Yole).
The market research & strategy consulting company announces an impressive growth between 2019 and 2020, reaching +76% and +20% for thermal imagers (and cameras) and thermal detectors markets, respectively.
Given the criticality of thermal detection/imaging systems that are needed to stem the spread of the virus by detecting the fever, Yole delivers today a preliminary report as of May 2020. The aim of this analysis is to point out the impact of the COVID-19 epidemic. Yole's imaging team delved into and analyzed the changes coming within the thermal infrared industry, especially during the next few months. Yole is pleased to present today the Thermal Imagers and Detectors 2020 - COVID-19 outbreak impact – Preliminary report.
This first study proposes an outlook of the strong expansion of the thermal imaging and sensing industry, during and after the COVID-19 wave. What are the changes on the thermal imaging market so far? What could happen in 2020 and in the following post-pandemic years? Yole presents today its preliminary expectations. For thermal imagers, some markets will suffer from the economic crisis due to the virus outbreak. Yole's analysts identify for example, the automotive market segment and personal vision systems.
"Indeed the automotive market did not show impressive interest for thermal technologies in the past," explains Dimitrios Damianos. "In addition, such technology is not yet considered as a very important ADAS system in a car." But, in parallel, the demand for surveillance and thermography systems linked to fever monitoring will increase in various infrastructure such as airports, hospitals, public areas and warehouses. Therefore, Yole expects a positive impact in this specific industry.
In term of volumes, Eric Mounier, PhD, Fellow Analyst at Yole explains: "For thermal imagers, we expect more than 1.5 million fever detection cameras to be deployed in 2020 and in the next 3-4 years cumulatively at airports, businesses and other infrastructure. In US$ value, we estimate the total market to be US$7.6 billion in 2020, generating an impressive 76% YoY2 growth". Thermal cameras for fever detection are split between the thermography and surveillance segments. On the other hand, some high-volume applications that Yole previously expected to boom, like automotive and ruggedized smartphones, will stagnate, especially as production shifts towards more cameras for fever detection application.
In the thermal detectors market segment, habits change and people are increasingly concerned with their own health, thus monitoring their body temperature on a daily basis. This will create an exploding demand for thermopile-based thermometers and associated temperature guns. "Without doubts, COVID-19 has changed the world and will do so for years to come", confirms Eric Mounier. Thermal detectors' volumes are expected to skyrocket in 2020 due to more shipments of thermal detectors based on thermopile technology that are used in low-end and high-end temperature measurement. These include ear thermometers and temperature guns or other thermometry devices both personal and professional/medical. By 2020, the market value should be US$350 million, representing 20% YoY growth, announces Yole in its new thermal imagers and detectors report.
In the current context, Yole's analysts explore a new hypothesis: what if a thermal imager gets inside every smartphone? What if a major smartphone maker, like Huawei, Oppo, Xiaomi, Samsung or Apple, introduces a phone with a temperature measurement option now?
Dimitrios Damianos asserted: "Naturally people are worried about COVID-19. It wouldn't be outrageous to use something to measure their body temperature frequently, which happens to be constantly in or near their hands, namely their smartphone or their smartwatch".
Domestically in China, 850 million people have smartphones and 60% of the Chinese population is equipped. It wouldn't be an exaggeration if 10 million people, about 1%, could buy a smartphone with this added body temperature measurement functionality. This is a hypothesis where only people in China adopt such a smartphone, due to higher awareness. The technology is here and the time is (probably) right.
Some thermal detectors or imagers are tiny enough to be integrated into a mobile. And some smartphones already integrate one, albeit for another use case, more professional. What is needed is an accuracy better than 0.5°C, reliable electronics and processing to avoid false alarms, along with educating properly consumers on how to read and interpret the thermal images. Of course, price must be low enough, in the range of a few US$. Cost would drop with volume production, benefiting from large wafer scale manufacturing capabilities on 8" or even 12" diameter wafers. The COVID-19 pandemic is a health disaster but thermal imaging and sensing technology will certainly be, among others, one line of defense against this virus. In the Thermal Imagers and Detectors 2020 - COVID-19 outbreak impact – Preliminary report, the market research & strategy consulting company proposes its vision and analysis.