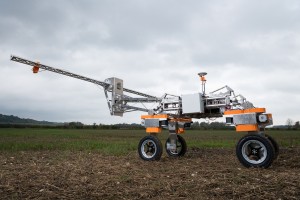 Small Robot Company, a British agritech start-up for sustainable farming, announced industrial design and manufacture of its first robot fleet in Britain. The initial fleet of 10 robots will be manufactured by Tharsus, the UK advanced machine and robots designer and manufacturer. The first of the fleet will be ready for commercial service in October 2020.
Tharsus will finesse the 'Tom' monitoring robot prototype design for eventual mass production in Blyth, Northumberland, working together with Small Robot Company (SRC) on a rigorous industrial design process. Tharsus is highly experienced in advanced robot manufacture. The British company also manufactures Ocado's warehouse robots for global sale.
'Tom' is delivering SRC's first commercial service for weed mapping. SRC is planning to service around 2000 hectares with the new 'Tom' robots by January 2021. Customers signed up to use the new robots include Waitrose & Partners and the National Trust, who is looking to expand its use of robots across its farms. Early field trials are already underway in 20 farms across the UK, including the National Trust Wimpole Estate and Waitrose & Partners Leckford Estate.
Tom's per plant view of the field is the initial foundation for SRC's commercial non-chemical weeding service, which uses the monitoring robot to first locate the weeds. The weed zapping service is anticipated to be available from autumn 2021. Other benefits from the mapping service include yield predictions and measurement of herbicide efficacy.
Small Robot Company's mission is to maximise food production while reducing its cost on the environment. Using robotics and artificial intelligence, it has created an entirely new model for ecologically harmonious, efficient and profitable farming. Its farmbots Tom, Dick and Harry will plant, monitor and treat arable crops autonomously, with minimal waste.
Global opportunity
Agriculture is a $2.4 trillion industry, with the precision farming market a huge global opportunity for investors. Goldman Sachs predicts that the market for digital agricultural technology will be $240 billion by 2050, up from just over $5 billion today.
Commenting during a recent visit to Tharsus, International Trade Secretary Liz Truss said: "Britain leads the world in high-tech – we just had great figures which said investment in tech has grown faster in Britain than any other country in the world. We are literally the world leader for increases in investment into country for technology and it's fantastic to see this great example here in Blyth. One of the big opportunities from Brexit is the fact we are able to reach around the world, to be more open to the rest of the world."
Next generation Tom robot design and manufacture
Over the next few months, Tharsus will work with SRC to refine its 'Tom' prototype design ready for commercial production from August. An initial fleet of 10 robots will then be manufactured.
SRC's current go-to-market strategy looks to deliver its Farming as a Service (FaaS) in three stages. The next stage is to deliver non-chemical robotic weed detection and control for 8000 hectares wheat crops in 2021. This will be scaled up to service 20,000 hectares in the UK by 2023, which comprises the 70 UK farms who have already signed a Memorandum of Understanding for the service, before then expanding to cover 80,000 Hectares across the UK, US and Canada. The total global addressable market is 177 million arable farms across 6.2bn hectares.
Tom will cover 20 hectares per day autonomously, collecting about 6 terabytes of data. He can distinguish plant details at submillimetre resolution, with less than one millimetre per pixel resolution on the ground. He is robust and weather-proof and can be used all year round. The next generation Tom also incorporates increased speed, 5K camera capacity and extended battery life.
John Toal, Director of Business Development, Tharsus, continues: "There's a general misconception when it comes to agriculture and the adoption of technology. In fact, the farming community is very technology savvy. It takes very little to get them fired up about robotics in the field and this technology's ability to address the macro-economic pressures that the farming industry needs to overcome.
Game-changing innovation back by UK government
SRC's world-leading innovation is funded by the government's Innovate UK grant programme, with more than £1 million funding committed to date. This includes an £800,000 grant for its 'Wilma' artificial intelligence weed recognition and 'Tom' weed mapping technology. This was one of the largest single agritech grants made under Innovate UK's innovation scheme in 2018.