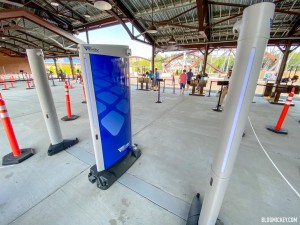 At a time when increased security is needed, the global pandemic has also increased the challenges in security screening. Stopping people at entrances to buildings can cause long lines to form, making it hard to social distance. And having security personnel perform hand checks of bags and other personal items is a health risk for both the visitor and security person. One solution is a touchless system that lets people walk right through without stopping, performing threat detection and even temperature scans seamlessly.
Intelligent, real-time screening
Evolv Express is an automated visitor screening solution that uses networked sensors, centralized data stores, machine learning, workflow engines, and cloud analytics to streamline operations and enhance security. It.works with the Evolv Cortex AI Software Platform, which enables the system to become more intelligent over time as new threat profiles emerge. Express can differentiate between actual threats, such as weapons, from personal property, such as keys or mobile phones.
The combination of high-speed sensors and AI software enables Express to identify threats in real-time without requiring visitors to stop, empty pockets, and remove bags. Express automatically detects threats and enables real-time image-aided alarms showing security personnel precisely where the potential threat is on a person or in his or her bag. Doing so greatly reduces the amount of physical contact required between the security personnel and those being screened.
By keeping the process moving, Evolv Express is capable of screening 60 people in a minute. "For most venues and facilities, COVID-19 marks the end of the era for traditional metal detector security screening," said Evolv Technology CEO Peter George. "The pandemic has pushed frustration with crowding and hands-on bag checks beyond the boiling point. However, there is a way forward. Visitors are saying they'll come back to venues if they see security screening that preserves social distancing."
Temperature sensing
Evolv recently introduced the Evolv Thermal Imaging Package for Evolv Express as an option. It allows each visitor (or employee) to be screened for threats as well as for elevated temperature. If an elevated temperature is detected, security personnel can direct the subject to a secondary screening, all touchless, thus keeping the subject as well as security staff and others safe from potential infection.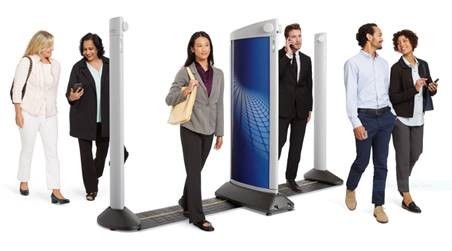 Evolv systems are installed in outdoor entertainment venues, corporations, airports, cultural landmarks, museums, places of worship, hospitals, schools, stadiums and arenas and large-scale events around the globe. One high-profile installation is at Hersheypark in Hershey, Pennsylvania (US).
Installation
Hersheypark is the location of Hershey's chocolate factory, maker of the iconic Hershey kiss. The park is more than just a chocolate factory, though, as it has become a family destination that welcomes millions of visitors annually. Hersheypark recently upgraded its security system, keeping in mind new security needs in light of the pandemic. "We knew our former security screening process would provide challenges in the pandemic environment," said Jason White, managing director of corporate safety and security at Hershey Entertainment and Resorts.
They wanted to eliminate manual bag checks and to keep crowds moving along, while safely social distancing. "We'd already been evaluating how we could improve on our guest screening process and had piloted Evolv Express last fall because the system could accommodate thousands of people an hour in a frictionless, no-stop flow," White said.
The park had closed during the pandemic, during which time much development and expansion took place, including renovating the main entrance to provide a stress-free experience for visitors. A component of this "Hershey's Chocolatetown" development included the installation of Evolv Express systems in the new main entrance.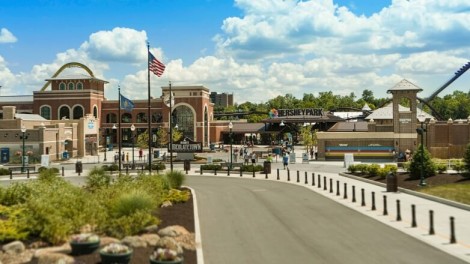 Prior to using Evolv Express, the park's security staff would use metal detectors to screen visitors, and then do a hand check of bags and personal items. The metal detector took four to five seconds per person, and bag checks could take much longer. With Evolv Express, visitors can stroll through at a normal pace, and they are not necessarily aware that the screening is going on. The park's security team estimates an improvement of four-to-five times in the number of guests screened per hour. So not only is it fast, but it is unobtrusive, thus enhancing the visitor's experience.
Digital safety
As people emerge from their COVID isolation and head back to public spaces, they need to be protected from threats of violence as well as from health risks caused by the pandemic. Sophisticated touchless screening is meeting both of those needs, as exemplified by the installation of Evolv Express at Hersheypark, where it is exceeding expectations for both visitors and park personnel. "Our guests and security staff have been pleasantly surprised at the speed of the touchless screening experience that largely eliminates manual bag checks," White concluded.
Written by Anne Fischer, Editorial Director, Novus Light Technologies Today