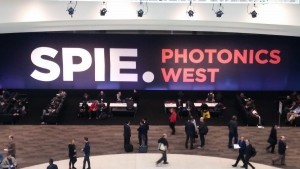 Photonics West 2018 had 1325 exhibitors and over 23,000 attendees. The exhibit space, which covered over 177,000 square feet, sold out in record time, and despite adding extra tabletop space, at least 80 companies remained on a waiting list when the show opened. SPIE has put a cap on growth for next year, encouraging companies to sign up now for booth space for the 2019 event.
No clear definition
At the Photonics Industry Update on Thursday morning, Stephen Anderson, Director, Industry Development at SPIE, noted that there is no clear definition of the photonics market. In fact, he pointed out that there is no NAICS (North American Industry Classification System) code for photonics. Companies that use or develop photonics include big names such as Apple and Google, but they don't call themselves "photonics" firms. On the other hand, photonics are everywhere and it's big business. According to the 2016 market report, there were 3311 companies making photonic components across 52 countries. China, the US and Japan are the market leaders, with China "getting a bigger piece of the pie as we go forward," Anderson said.
European perspective
According to the recent vision paper "Europe's Age of Light," the European photonics industry holds a 15.5% share of the global photonics market, anticipated to be worth €615 billion by 2020. The strength of the European industry was evidenced by the 139 EPIC member companies that exhibited at Photonics West this year. The French photonics industry was also well represented, and the French Association of Optics and Photonics Industries (AFOP) estimates that it has a turnover of €15 billion.
US National Photonics Initiative
In the US, the National Photonics Initiative (NPI) is a collaborative alliance among industry, academia and government to raise awareness of photonics and its impact on our daily lives. Its mission is to increase cooperation to advance photonics-driven fields and drive funding and investment in areas of photonics that are critical to maintaining US economic competitiveness and national security. In his Industry Update, Stephen Anderson mentioned the importance of photonics in the nation's infrastructure—the modernization of which is on the US President's agenda. NPI intends to work with Congress to make sure that infrastructure-legislation leverages the capabilities of photonics to modernize communication, transportation and more.
Congressional Visit Day
The National Photonics Initiative is arranging Congressional meetings on April 24 and 25.
On these days people in the photonics industry to advocate for science, optics and photonics by meeting with members of Congress to let them know what's happening in their district. Sign up by April 2
Congressman Joseph Kennedy III on Congressional Visit Day 2017
International Day of Light
The International Day of Light will be held on May 16th; the date chosen because it's the anniversary of the first successful operation of the laser in 1960 by physicist and engineer, Theodore Maiman. This day provides a time to focus on the role that light plays in science, culture, education, and sustainable development, in fields as diverse as autonomous technologies, medicine and healthcare, security and surveillance, food and agriculture, communications and energy. The official inauguration ceremony will take place at UNESCO headquarters in Paris, France. Plans include a wide variety of local celebrations and activities to raise awareness of the many different ways light impacts society. SPIE has launched a "World of Light" photo contest offering cash prizes, to help raise awareness about the IDL and the vital roles that light and light-based technologies play in daily life.
Photonics West 2019
Photonics West will take place from January 27 to February 1 at the Moscone Center in San Francisco, California (US) with the exhibition being held from January 30 to February 1, 2019.