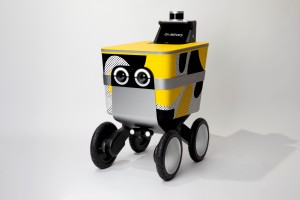 Velodyne Lidar, Inc. announced that Postmates has included Velodyne lidar technology in its self-driving rovers for short-distance deliveries, Postmates Serve. Equipped with Velodyne's compact, powerful lidar sensor, Serve combines autonomy and emission-free robotics for efficient, sustainable movement of goods in cities.
Serve's architecture includes Velodyne's VLP-16 Puck sensor, which has been seamlessly designed into the rover. The VLP-16 Puck is strategically built into the top of the rover for a high-performance surround view, enabling Serve to detect people and objects as it completes local deliveries.
Serve enhances the company's existing fleet, which is currently completing over four million deliveries monthly, allowing for increased capacity and efficiency. Velodyne sensors provide the high-resolution, real-time surround view data required for Serve to safely navigate local delivery routes.