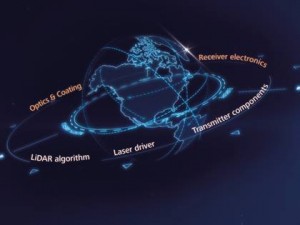 The Jena, Germany-based technology company Jenoptik has experience in developing technologies for such high-performance lidar systems, including high-precision optical components, microoptics and diffractive optical elements (DOE), as well as optoelectronic elements made of glass and polymer, laser diodes and laser modules, and modules for laser distance measurement. These products, which Jenoptik has already supplied to various industrial and automotive customers, are used for the automotive, mobility and automation technology sectors.
With the expertise in lidar technologies, Jenoptik has established itself as tier 2 supplier (development and production of optoelectronic components and modules) for lidar system suppliers in the automotive sector. Jenoptik will further expand this strategic positioning.
Jenoptik has recently presented its entire spectrum for lidar applications at the Vehicle & Transportations Technology Innovation Meetings (VTM) in Turin, Italy.