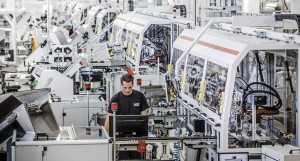 With flexible, intelligent production technology, factories can thrive in a market defined by a demand for personalized products
The age of mass production is rapidly giving way to the age of personalization. According to a study by Deloitte, customization of manufactured products has been shown to increase conversion rates by between 30% and 50%.
Results like these are driving demand for shorter runs of increasingly customized products. And alongside opportunity, this is presenting manufacturers with challenges. ABB recently took innovative steps to retool its German production capabilities in ways designed to give the company a competitive edge in the era of personalization.
"We've compartmentalized the assembly line," says Jorge Zubialde Legarreta, Smart Buildings Operations & Quality at ABB, a firm specializing in making circuit breakers for industrial robots and a range of other applications, including power distribution systems, security systems and building-management technology.
Zubialde is explaining why ABB is moving to an increasingly intelligent, automated and flexible Industry 4.0 set-up at its German production facilities ABB STOTZ-KONTAKT. "Increasingly, customers need circuit breakers which have been built to their unique specifications," Zubialde tells us. "To meet this demand, we need to be able to retool the assembly line for almost every job. But if we're going to do that, we had to find a way to do it without extra downtime. That was the challenge."
Industry 4.0: The missing piece of the just-in-time puzzle
According to the Deloitte study, 52% of companies are looking for ways to reduce development time as a means of optimizing their processes. And 48% say that customizing and personalizing products is a priority.
A study conducted in 2018 found that 86% of consumers surveyed agreed that being able to personalize a product — in this case a consumer electronics device — would make that product more appealing. Whether they're making the consumer devices themselves, or the production-line machinery that builds those products, manufacturers need to find a response to this increase in demand for speed and personalization.
Fortunately, leaders in industrial development are already hard at work formulating such a response. And the experience of ABB STOTZ-KONTAKT gives us a good idea of what it will look like. "The future of manufacturing," says Zubialde, "is one of modular production by increasingly intelligent systems and machines which can be re-configured for the next product run even as they are still working on the last one."
Re-organizing the assembly line for a new age
Faced with the need to produce back-to-back runs of customized products, often to short order and with no or minimum downtime, ABB STOTZ-KONTAKT knew it needed to upgrade its production facilities. The answer was an automated production process with the lowest possible set-up overhead. To achieve this, the company first separated its 60-meter long assembly line into a series of discrete segments.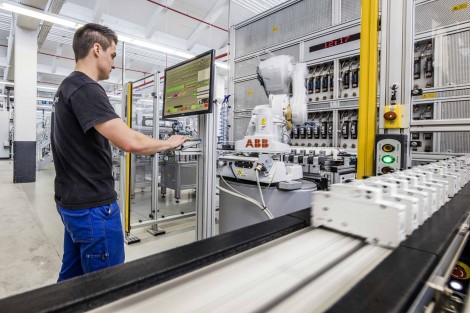 This logical division of labor would allow the company to reconfigure one part of the assembly line while another was still working. For instance, if we imagine a four-stage production process, as soon as stage one finishes the last units for a given production run, it could instantly be reconfigured to begin the next run. When the reconfiguration was complete, stage one would begin work again on the next run.
In the meantime, the last units of the outgoing product run would be leaving stage two, at which point it would be reconfigured on the fly to accept the first units of the new run from stage one. And so on, throughout all four stages. In this way, the company would achieve maximum flexibility, the most efficient possible use of its production facilities and the best results for its customers.
But all these things could only happen if ABB STOTZ-KONTAKT could find production-line technology fast, intelligent and flexible enough to operate with the speed and precision its new process required.
Modular, intelligent and adaptable to the nth degree
The answer was to draw on ABB's own expertise in highly customizable manufacturing technology and processes. The company designed a new assembly line composed of networked but self-sufficient ABB robots.
"The core assembly system consists of four ABB IRB 1600 production robots," explains Zubialde. "These work alongside an IRB 360 FlexPicker, for high-speed 'pick and place' tasks. There's also another IRB 1600 that we use as a test system. This allows our engineers to work on designing and optimizing a production run without interrupting production." Each robot is self-sufficient, so only one control unit is required to run the whole assembly line. And the necessary system electronics are installed underneath the assembly line, minimizing clutter and reducing the chance of any accidental damage.
Ensuring that the system always runs at its peak performance — and that each production run is designed for maximum efficiency — requires the use of data-driven planning. "We have an extremely large number of data points where we can retrieve and process data," Legarreta. explains. "Using customized ABB software, we can gather data not just from this site but also from other factories, in real time. This gives us the quantity and quality of data we need to ensure uniformly high standards and efficient production planning for every single run."
And because the ABB industrial robots are highly flexible and can be reconfigured in the shortest time possible, the company is able to make its segmented, customizable assembly line a reality. This system was designed, built and installed by ABB's own specialists after their team won an open tendering process which included external competitors.
"Increasingly, our clients want to order a whole range of customized switches and circuit breakers, often in very small batches," explains Zubialde. "Our re-configured assembly line gives us the flexibility and speed to meet these new customer demands. And that's something our data told us was vital if ABB STOTZ-KONTAKT was going to continue to be a leader in its segment long into the future. We're confident now that our new production line, based on ABB industrial robots, is ready for any challenge the markets and our customers care to throw at us."
Written by Jorge Zubialde Legarreta, Smart Buildings Operations and Quality, ABB.