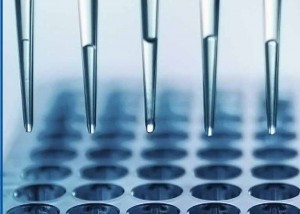 Testing of blood, saliva, urine or tissue samples from humans or animals to diagnose and detect diseases, like COVID-19, at an early stage, requires systems that are fast, easy to use, and widely available. As a leader in piezo transducers and nanopositioning, PI (Physik Instrumente) LP provides several products that can be used in various testing methods, such as IVD, cytometry, cell isolation, cell-line engineering, printing of microarrays and lab-on-a-chip systems.
Piezoceramic Components – the Gold Standard
Piezo ceramics, a special form of electro-ceramics, are the gold standard when it comes to precision, speed, and force in a small package. The piezoelectric effect is based on the generation of charges through the application of force by a crystal and vice versa, therefore piezo ceramics react with an immediate displacement when applying an electric drive voltage. Piezo components have low power consumption and high durability and reliability, making them suitable to be employed in battery operated point-of-care applications as well as large lab automation devices. This effect is applied to plates and discs for shock-free moving and mixing of small amounts of fluid, valves to control very low flow rates, and ultrafast actuators or tubes for precise droplet generation.
PI is a privately held company that designs and manufactures world-class precision motion and automation systems including air bearings, hexapods and piezo drives at locations in North America, Europe, and Asia. The company was founded 5 decades ago and today employs more than 1300 people worldwide. PI's customers are leaders in high-tech industries and research institutes in fields such as photonics, life-sciences, semiconductors and aerospace.