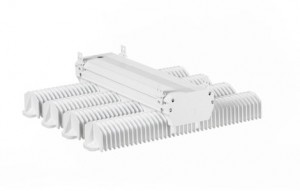 GE Lighting's Albeo ABHX-Series LED High Bay Lighting fixture has earned a 2013 Architectural Products Magazine Product Innovation Award, which recognizes innovation in the development and refinement of buildings-related products.
The Albeo ABHX-Series LED lighting fixture can replace a range of legacy lighting systems—400-watt to 1500-watt HID and four- to eight-lamp T5/T8 high-intensity fluorescent high bay lighting—in warehouses, cold storage areas and other commercial spaces with high ceilings. It can be equipped with wireless and motion controls, and it offers more lumens from fewer modules compared to the previous generation of the fixture, which was the first one-for-one LED replacement for up to 1500-watt metal-halide systems.
The Albeo ABHX-Series also was recognized by Architectural SSL Magazine with a 2013 Product Innovation Award for cutting-edge LED and solid-state luminaires and fixtures. Additionally, it was honoured earlier this year with a Next Generation Luminaires (NGL) Award in the "Industrial Luminaires – high bay" category.
A group of 50 judges independent of the magazine reviewed manufacturers who demonstrated outstanding innovation across platforms such as education and standards developments.