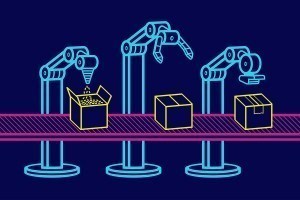 Advances in technology increase the application of industrial robots, resulting in tremendous market growth. Robots are more capable and easier to use than ever before. The evolutionary advances made in software make it easy to "teach" robots to perform specific tasks. An example of a software advance is EVT's software add-on that works with EyeSens Vision Sensors to help the robot perform pick and place applications.
Currently the add-on works with Universal Robots, but will be available in the near future for others that use the EyeSens Vision Sensor in the near future. Advances in user interfaces simplify the use of robots so that they can be operated by almost anyone. An example of a state-of-the-art user interface that was unveiled by ABB and Kawasaki Heavy Industries is a simplified human-robot interface with smartphone-like navigation and icons. A demonstration at Automatica showed Kawasaki's dual-arm SCARA Robot "duAro" working side by side with ABB-s dual arm YuMI robot.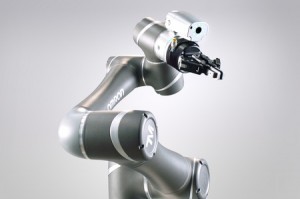 Advances in image sensing and lighting assists robots in tasks such as inspection, measurement and sorting. An example of state-of-the-art imaging is integrated in Omron's recently released TM Series collaborative robot.
Types of robots
There are three basic types of industrial robots—cartesian, SCARA, and six-axis robots—and each have their own specialties.
--Cartesian: Also called the gantry robots, these industrial robots have three principal axes of control, which are linear.
--SCARA: Selective Compliance Articulated Robot Arm; the arm can move in the X and Y axes, but is rigid in the Z direction.
--Six-axis: Also called articulated robots, these have six movements from rotating the whole robot, to moving the lower arm forward and back, up and down, and rotating and moving the lower arm (wrist).
There are also collaborative robots, which work side by side with humans or with other robots. For more on collaborative robots (or cobots) read Collaborative Robots Automate the Assembly Line.
Robotic applications
Robots have been used in automotive assembly for the past 30 years, offering fast and quality assembly for Tier 1 and Tier 2 suppliers. They're used in the medical and pharmaceutical industries because their reliability and precision meet the demanding FDA requirements. In the electronics and semiconductor industries, clean room robots perform assembly, bonding, testing and handling applications. The following are examples of robots at work in a few of these areas:
KUKA 6-axis robot dispenses tests
At the ViscoTec Customer & Innovation Center (CIC) in Bavaria, Germany, a KUKA KR 30 6-axis robot is being used to test dispensing applications.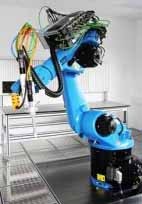 The company manufactures systems and components required for conveying, dosing, applying, filling and emptying fluids. The robot will be testing dispensing applications where a complex contour is coated with a longer dosing bead. The six-axis robot is able to move along the curves with ease, and can move both one-component d dispensers and two-component mixing heads.
Researchers design robot that assembles IKEA furniture
Scientists at Nanyang Technological University in Singapore developed a robot with a 3D camera for its eyes and 6-axis industrial robots for its arms. The scientists developed algorithms to enable the robot to assemble the chair on its own, which it was able to do in eight minutes 55 seconds.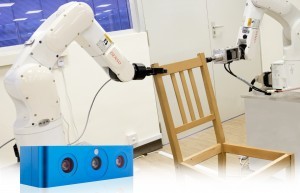 The robot starts the assembly process by taking 3D images of the parts with an Ensenso N35 3D camera from IDS, and using the camera's light-intensive projector, is able to determine textures on the surfaces structure on the components of the chair. The robot is used by the scientists to study clever manipulation, an area of robotics that requires precise control of the forces and movements of special robot hands or fingers.
Robot-based vision system in automotive assembly
A Tier 1 automobile manufacturer based in the UK needed to inspect front consoles as a final inspection before delivering them to the manufacturer. Because the cost of robotic systems has come down, the supplier enlisted Industrial Vision Systems to develop a robotic-based vision system. Using a machine vision camera on the end of the robot end effector, they could move it into position to check features fo the subassembly.
The system performed complicated functions with one GigE monochrome and one GigE color camera. A Human Machine Interface provided an analysis of the inspected subassembly, offering feedback that highlights the location of any flaws or omissions. An additional benefit of the system is that it is future proof because the end user can add new components and modification to the system as needed.
Market gains, where and why
Falling costs, enhanced technologies and ease of use are factors in the proliferation of robots throughout the industrial and medical sectors. In a presentation at week's VISION trade fair in Stuttgart, Germany, Alex Shikany, Vice President of the Association for Advancing Automation,noted the recent growth in robotics. In 2017, he said that 346,000 new robots were installed worldwide; a growth of 18% over 2016. Annual sales volume of industrial robots increased by 114% in five years (2013 to 2017), according to the World Robotics Report by the International Federation of Robotics (IFR). A report on industrial robots by Markets and Markets forecasts a growth of nearly 10% through 2023. According to the report, drivers for this growth are increasing investments in automation and the increasing demand from small and medium-scale enterprises in developing countries.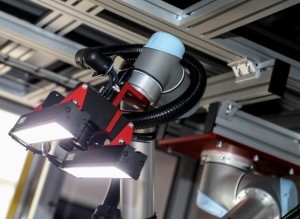 The IFR report estimates that the number of robots shipped will climb from 381,000 in 2017 to 630,000 in 2021.
According to AIA's Shikany, top applications are:
Top industries:
Automotive, 33%, a growth of 21%
Electronics, 30%, a growth of 27%
ABB is an example of one company that sees opportunity in the market, having recently announced a $150 million investment in a robot factory in Shanghai. Building on its strength in collaborative robots and artificial intelligence research, ABB's new factory will literally have robots building robots, a testament to true collaboration.
What's next? According to the AIA's Shikany, investment trends are telling us that the market wants tomorrow's robots to be mobile, dexterous, smart and intuitive. The technologies are there, and over the next few years robots will be enhanced with new capabilities, opening up new possibilities for industrial applications.
Written by Anne Fischer, Managing Editor, Novus Light Technologies Today