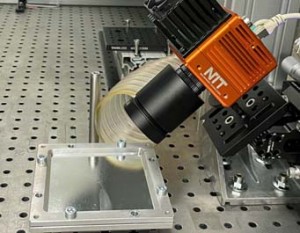 In the frame of the EU-funded LAMpAS project, the company New Infrared Technologies S.L. (NIT) has developed a high-speed uncooled IR camera specifically adapted to the requirements of LAMPAS processes. The camera will be able to detect in line the heat accumulated during laser surface structuring processes. It will be one of the two sensors/techniques integrated in LAMPAS in-line monitoring system.
LAMPAS IR camera is an upgraded version of the Tachyon 16K camera by NIT. The very unique sensor technology of the company allows processing focal plane arrays with outstanding sensitivity in the MWIR spectral range (1-5 microns) in uncooled operation. The upgraded version of the detector developed for LAMPAS allows capturing more than 4000 images per second full resolution (128x128) in snapshot configuration. New features such as flexible selection of RoIs (Regions of interest), new AR coatings for optics and windows, and integrated NUC (Non-uniformity correction) were implemented.
Laser structuring processes are extremely dynamic processes combining very high scan velocities and high-frequency ultrashort laser pulses. In line measurement of the heat accumulated on the treated surface during texturing provides useful information of the process itself. Studies carried out in LAMpAS project by researchers of the Technische Universität in Dresden and NIT have demonstrated a strong correlation between the heat accumulated and the quality of the texture. As part of the LAMPAS monitoring system, the high-speed IR camera will supply in real-time information about laser structuring process stability and quality of a new range of functionalized surfaces such as easy to clean finishes for ovens, fridges, and other home appliances.
It is remarkable fact that LAMpAS monitoring system will combine two independent techniques, high-speed IR imaging, and real-time FFT (Fast Fourier Transform), for in-line monitoring of laser structuring processes. This innovative and new strategy aims to early detection of instabilities and malfunction during microstructure processes using the Direct Laser Interference Patterning method.