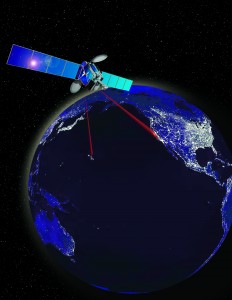 During a recent NASA Lunar Laser Communication Demonstration (LLCD) project, a pulsed-laser beam was successfully used to transmit data over the 239,000 miles between the moon and Earth at a "record-breaking" download rate of 622 megabits per second (Mbps).
The LLCD technology, hosted aboard NASA's Lunar Atmosphere and Dust Environment Explorer (LADEE), launched in September, works by pulsing laser light at extremely high rates, using a method similar to that used in the current fibre-optic-based internet infrastructure.
As Don Cornwell, LLCD Mission Manager at the NASA Goddard Space Flight Center explains, a key challenge for such free-space laser communications is to point beams at a very small target 400,000 kilometers away in orbit around the moon--a feat that he says is the equivalent of "hitting a hole-in-one in golf at a distance of over eight kilometres."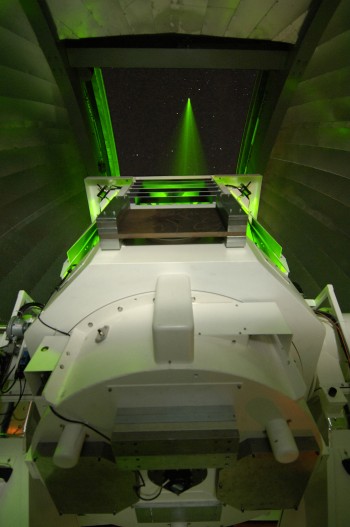 "This challenge is overcome by deploying systems to cancel the small vibrations of the spacecraft, caused by routine functioning, that are imparted on the laser beam, in addition to pointing-ahead of the target to account for the time between where the target is sighted and where it will be after the 1.3 second trip to the Moon," he says.
Shorter wavelength
According to Cornwell, one of the key advantages of the LLCD laser technology is its ability to exploit the higher frequency of laser light, some 10,000 times higher than radio, meaning that it has the potential to deliver 10,000 times more data in a given second.
"The fibre optic networks that make up our Internet are actually filled with pulsed-laser beams carrying terabits of data per second. The shorter wavelength of laser light also allows the laser beam delivering that data to diverge less and thus be more concentrated on the receiver, thus requiring a less power-hungry transmitter and smaller antenna aperture to collect the signal on the spacecraft," says Cornwell.
A potential stumbling block for the technology is that the laser beam can be blocked by clouds or rain before it is received back on Earth, which LLCD has overcome by installing three separate ground receiving stations - the primary ground station at White Sands, New Mexico, another site at NASA's Jet Propulsion Lab's Table Mountain observatory in California (US), and another provided in collaboration with the European Space Agency and located on Tenerife in the Canary Islands (Spain). Each of these sites was chosen for its typically cloud-free skies, so Cornwell points out that one of the sites is "almost always guaranteed to be clear."
"Regarding airplanes, laser safety has been a primary consideration from the beginning of this effort. This system is designed and operated in a way that ensures safety, specifically by our use of 'eyesafe' laser wavelengths in the invisible near-infrared range with relatively low powers. The laser signal returning from the Moon is literally so low that it is just individual 'photons,' so it also poses no safety issue," he adds.
Improving access
The short duration LLCD experiment is the precursor to NASA's long duration demonstration, the Laser Communications Relay Demonstration (LCRD), scheduled to launch in 2017. Given that the main purpose of LLCD is to demonstrate that this technology will work from distances as far away as the Moon, Cornwell believes that so far it has been a "fantastic success," and he points out that the team has been able to quickly acquire' the laser beam from LADEE and establish the communications link regularly and routinely with many hours of error-free operation.
"In addition to making many scientific performance measurements of the system under varying conditions, we've used it to transmit HD videos to the Moon and back to demonstrate the quality of the transmission. At this point our primary mission is complete," he says.
In terms of future prospects for commercialisation, Cornwell says that LLCD itself is designed as a deep space laser communications system, but he says that some companies already have plans to build optical networks in the sky using satellites and laser communications, which he believes "could provide broadband access to remote parts of the world without having to dig thousands of kilometres of trenches to lay down optical fibres."
One such company is Laser Light Communications LLC, a start-up based in Virginia (US) that is currently developing what it hopes will become the first-ever commercial satellite communications constellation based entirely on optical wave technology. The satellite array will consist of Medium Earth Orbit satellites with an operating system capacity of 6Tbps, including satellite-to-satellite optical crosslinks and satellite-to-ground optical up/down links above 200Gbps, which the company says will operate "without reliance on the radio frequency spectrum."
LLC is currently undertaking satellite and ground equipment manufacturing, which it says will last until 2016, before a launch date in 'early 2017' to commence a round of in-orbit testing and commercial services.
Written by Andrew Williams, Contributing Editor, Novus Light Technologies Today