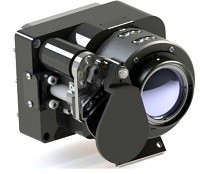 Senso Optics, a specialist in the design, development and production of thermal-imaging technologies and advanced electro-optical solutions for military, paramilitary and security markets both in Israel and around the world, announces the new Thermal Vision Sensor (TVS) for Enhanced Vision System (EVS), which enables safe taxiing, takeoff and landing of aircraft.
Darkness and clouds are primary enemies of flight but technology is beginning to provide solutions. TVSs present pilots with an infrared (IR) view of surroundings, penetrating darkness and weather conditions. The TVS provides the flight crew with a real-time enhanced thermal image of the external scene in all weather conditions. The EVS presents an image of the external environment to enhance pilot situational awareness of terrain and the airport environment in low-visibility situations.

Original image (left) vs. thermal image from the TVS (right)
The TVS is a thermal camera, sensitive to the long wave IR (LWIR) spectrum and based on an uncooled micro-bolometer, 17 micrometre (μm) pixel pitch, video graphics array (VGA) 640 × 480 high-sensitive (HS) detector. The TVS features increased sensitivity and a wide operating temperature range together with low power consumption and small sizes, thereby expanding options for seeing terrain, avoiding obstacles and including cables, in darkness and all weather conditions.