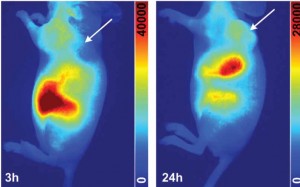 Colorectal cancer is the third most common cancer worldwide, with 1.8 million new cases reported in 2018, according to the World Cancer Research Fund. It is also the fourth most common cause of death from cancer. Survival most often is dependent on when it is diagnosed, and whereas the number of cases of colon cancer is expected to increase 60% in the next 15 years, early diagnosis is paramount. Today's common diagnostic method is the colonoscopy, which uses high-definition endoscopy that enables the gastroenterologist to see blood vessels, surface patterns and lesions, such as polyps. The state-of-the-art systems in use today incorporate narrow band imaging or flexible spectral imaging chromoendoscopy, which offers higher resolution to help the doctor determine which polyps need to be removed, and many can often be removed right during the diagnostic procedure. However, even with these relatively new techniques in use, cancer detection has not increased. Due to the high rates of colon cancer and our understanding that early and proper diagnosis can go a long way toward reducing rates of death from colon cancer, much research is going into developing more sophisticated imaging tools.
New tool
A multidisciplinary research team in China and the US collaborated on the design, construction and characterization of an endoscopic system that can perform near-infrared fluorescence imaging of colon cancer. While endoscopy is already the most used technique today, this study takes it a step further by presenting the design and construction of a fluorescent endoscopic system that harnesses the power of the second near-infrared window II fluorescence imaging. As described in a paper published in Advanced Healthcare Materials, "an NIR-II fluorescent molecular probe, indocyanine green conjugated bevacizumab (Bev-ICG) that targets vascular endothelial growth factor, is successfully synthesized and evaluated along with the NIR-II endoscopy imaging system. Simultaneous NIR-II fluorescence and white-light (WL) imaging of VEGF is validated in an orthotopic rat colorectal cancer model."
The study was led by researchers at the Institute of Molecular Medicine Joint Laboratory for Molecular Medicine at Northeastern University in Shenyang, Liaoning (China) in collaboration with the Institute of Clinical Pharmacy & Pharmacology, Jining First People's Hospital, Jining Medical University, Jining, 272000 (China), the Department of Neurosurgery, the Fourth Affiliated Hospital of China Medical University, Shenyang, Liaoning, 110000, China, Molecular Imaging Program at Stanford (MIPS), Bio-X Program, and Department of Radiology, Canary Center at Stanford for Cancer Early Detection, Stanford University, Palo Alto, California (US).
Setup
The team used the new NIR-II endoscopy imaging system to evaluate a synthesized fluorescent molecular probe, indocyanine green conjugated bevacizumab, which targets vascular endothelial growth factor. The NIR-II fluorescent endoscopy imaging system and performance evaluation system was built with a long pass (LP) dichroic mirrors/beam splitters with a 900 nm cutoff wavelength (DMLP 900R,Thorlabs), a 900 nm LP filter (FELH0900, Thorlabs), an achromatic lens (Navitar MVL35M23, Thorlabs), an SWIR lens (TECHSPEC SWIR
100 mm SWIR Series Fixed Focal Length Lens #83–170, Edmund Optics), and couplers. The InGaAs SWIR camera (NIRvana, Teledyne Princeton) and color charge coupled device (CCD; EO-13122, Edmund Optics) were used to collect images and videos. USAF 1951 resolution test target (Edmund Optics) was used for resolution performance evaluation. A diode-pumped solid-state laser with λex = 808 nm (LR-ISP-808/2000–3000 mW, Changchun Laser Technology Co., Ltd. was used to generate tunable fluorescence excitation light. See the paper for more details on the setup.
.Michael Melle, imaging product manager at Teledyne Princeton Instruments, said, "We are gratified to see the short-wavelength infrared (SWIR) sensitivity and quantitative capabilities of the NIRvana camera being leveraged for real-time, non-invasive imaging of colorectal tumor biomarkers." Melle went on to say, "NIRvana technology offers a versatile, high-performance solution for myriad in vitro, ex vivo, and in vivo NIR-II fluorescence imaging applications."
Because the researchers' new NIR-II endoscopy system provides a generalizable design compatible with most current clinical endoscopies that are equipped with a standard coupling, they anticipate similar hardware upgrades will greatly promote the application of NIR-II fluorescence imaging in clinical settings.
Results
The researchers reported that this was the first time that NIR-II fluorescent endoscopy was used for targeted detection of colorectal cancer. A great advantage that it brings to imaging colon cancer is that it enables simultaneous acquisition and display of white light and NIR-II fluorescence. It works at sub-cellular resolution of 20 µm for sharp images in the NIR-II spectra. Real-time noninvasive imaging of colorectal tumor biomarkers has been achieved with the help of an antibody-based fluorescent probe. The researchers were able to demonstrate through in vitro, ex vivo, and in vivo studies that Bev-ICG is a promising candidate for further clinical translations. This NIR-II endoscopy system is a generalizable design that is compatible with most current clinic endoscopies that are equipped with a standard coupling.
Paper: Suo, Yongkuan & Wu, Fengxia & Xu, Pengfei & Shi, Hui & Wang, Tingzhong & Liu, Hongguang & Cheng, Zhen. (2019). NIRâ€II Fluorescence Endoscopy for Targeted Imaging of Colorectal Cancer. Advanced Healthcare Materials. 10.1002/adhm.201900974.
Written by Anne Fischer, Managing Editor, Novus Light Technologies Today