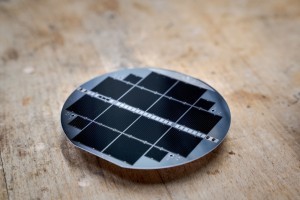 Many of the advancements in photovoltaics in recent years been in the area of perovskites, and this important work continues. For example, we recently reported on the development of perovskite-silicon tandem solar cells that hold much promise. But setting perovskites aside for a moment, here we shine the light on other important developments from around the globe. These include a new manufacturing process for solar, the development of higher efficiency transparent solar cells, a multi-junction solar cell grown on silicon and an exciting solar storage project.
Contactless Dispensing Process in Solar Cell Manufacturing
HighLine Technology GmbH is the most recent Fraunhofer ISE spin-off company, and it aims to commercialize a new process developed at the institute, whereby a contactless dispensing process is used to apply front metal contacts onto solar cells.
The dispensing technology has been compared to squeezing a tube of toothpaste, whereby the materials are pressed through the many miniscule nozzles of highly parallel print heads onto the front solar cell surface via a contactless printing process. As opposed to a toothpaste tube, however, the PV production developers use nozzles with diameters which are only half as thick as a human hair. The tiny nozzles work in parallel to produce the desired structures at high throughput. The developed technology can easily be integrated into conventional production lines for silicon solar cells, replacing the screen printing process normally used for the front-side metal contacts. In addition, the material consumption of the costly silver is reduced by around 20%. The front-side contacts produced by the process are thinner, exposing a larger semiconductor surface to the sunlight.
For more, read New Fraunhofer ISE Spin Off Offers Sustainable Solar Cell Production
Transparent Solar Cells
A team led by University of Michigan researchers has set a new efficiency record of 8.1% efficiency and 43.3% transparency with an organic, or carbon-based, design rather than conventional silicon for color-neutral, transparent solar cells. These solar cells can be manufactured at large scale, using materials that are less toxic than other transparent solar cells. The transparent organic solar cells can also be customized for local latitudes, taking advantage of the fact that they are most efficient when the sun's rays are hitting them at a perpendicular angle. They can be placed in between the panes of double-glazed windows, making them perfect for building-integrated photovoltaic projects. The next step in this work is to try to reach a light utilization efficiency of 7% and extending the cell lifetime to about 10 years. They are also investigating the economics of installing transparent solar cell windows into new and existing buildings.
For more, read Transparent Solar Panels for Windows Hit Record 8% Efficiency
Record Efficiency for Multi-Junction Solar Cell Grown on Silicon Substrate
For the first time, an efficiency of 25.9%has been achieved with a multi-junction solar cell grown directly on a silicon substrate. This record was achieved by a team including researchers from Fraunhofer ISE.
"For the first time we have now been able to realize a tandem solar cell based on a silicon wafer with such high efficiency," commented Dietmar Schmitz, Vice President Corporate Technology Transfer at AIXTRON SE. Until now, the production of III-V multi-junction solar cells has been based on a more expensive substrate material, for example also a compound semiconductor material.
The next step in this process is to further increase efficiency and reduce manufacturing costs. To this end, the deposition of the layers is to be realized even faster, with higher throughput and thus more cost optimized. In addition, the efficiency of the solar cells is to be further improved. By means of more cost-effective processes in combination with silicon as the lowest sub-cell, tandem technology is to be made accessible for broad-based photovoltaics in the future.
For more, read Progress in Multi-Junction Solar Cells
Molecule Captures and Stores Energy for up to !8 Years
Over the last few years, a specially designed molecule and an energy system with unique abilities for capturing and storing solar power have been developed by a group of researchers from Chalmers University of Technology in Sweden. Now, an EU project led by Chalmers will develop prototypes of the new technology for larger scale applications, such as heating systems in residential houses. The MOST system, which stands for Molecular Solar Thermal Energy Storage System, can capture solar energy and store it for up to 18 years, transported without any major losses, and later released as heat when and where it is needed.
Advances in the development of MOST technology have so far exceeded all expectations. The first, very simple - yet successful - demonstrations took place in Chalmers' laboratories. Among other things, the researchers used the technology in a window film to even out the temperature on sunny and hot days and create a more pleasant indoor climate. Outside of the EU project, application of the molecule in blinds and windows has begun through the spin-off company Solartes AB.
For more, read Solar Energy and Storage Technology Developed through New EU Project
Written by Anne Fischer, Editorial Director, Novus Light Technologies Today